From the Red Sea to the Atlantic, the Saharan desert spreads across enormous swaths of North Africa, encompassing sections (or all) of 11 African nations. The desert comprises stony plateaux, salt flats, sand seas, or Ergs, except for the odd oasis. The wind shapes these Ergs, or 'dunes,' which may reach 180 meters. They rise out of the desert like a sea and are fascinating to see. Unfortunately, some sand seas are unavailable to visitors due to political concerns.
In contrast, others, such as the ergs in Libya or Tunisia, are more accessible, albeit independent trips are difficult, if not impossible, to arrange. The Erg Chegaga and Erg Chebbi dunes in South Eastern Morocco are likely the easiest to visit. The Erg Chebbi dunes, 22 kilometers long and 5 kilometers broad, provide an unforgettable experience. Sleeping beneath the stars in a Berber tent, camel riding, and the serenity that only Morocco Sahara desert can provide are why it should go on everyone's bucket list.
HOW TO GET TO ERG CHEBBI
Merzouga, in southeast Morocco, is the entry point to the Erg Chebbi dunes. It takes roughly ten hours to drive from Marrakech.
Many visitors opt to come here on organized trips from Marrakech when groups embark in 4 x 4s towards the desert. These journeys frequently include stops at the UNESCO World Heritage site of Ait Ben Haddou and the Dades and Todra gorges, which are well worth seeing on their own.
Suppose you decide to travel independently by car. In that case, there are plenty of guesthouses along the way and petrol stations in most large towns. However, keep an eye on your fuel level because the distance between cities is considerable.
Supratours operates bus services from Marrakech to Merzouga (12 1/2 hours), Fes to Merzouga (11 hours), and Meknes to Merzouga (9 hours).
If you travel to Merzouga independently, you must plan your Erg Chebbi tour locally. Your best chance is to book via your Merzouga hotel.
ERG CHEBBI DESERT TOURS
The Erg Chebbi desert tours all follow a similar pattern. You'll travel from Merzouga to a Kasbah on the dune's edge, where you'll meet your guide and camels. Getting to the Kasbah will generally take approximately an hour, depending on where you are and if you are in a 4×4. You'll most likely arrive late in the afternoon and decant your goods into a smaller bag before dismounting your camel. You'll need to ride a camel for around 1 – 2 hours to go to your desert tent. If time allows, you'll be able to climb the dunes and watch the sunset along the route. Dinner will be served beneath the stars after you get to your tent. After the meal, some camps provide extra entertainment, such as Berber singing and drumming. Depending on your timings, you might want to get back out on your camel before sunrise the next day, so you can have an excellent vantage position for the light on your trip back to the Kasbah. If time allows, you may also get the opportunity to try sandboarding or hiking in the dunes. Quad bikes are also available for rent at some of the larger sites. In the morning, you'll return to your Kasbah for breakfast and to clean yourself before continuing your adventure.
From £301 per person, a 3-day Erg Chebbi trip departs from Marrakech.
The Erg Chebbi dunes are visited on a three or 4-day guided tour. Given the distances, this is probably the quickest route from Marrakech to Erg Chebbi and back. Along the trip, there will be opportunities for brief pauses at Dades Valley and Ait Ben Haddou.
From £505 per person, a four-day private Erg Chebbi tour departs from Marrakech.
The four-day tour follows the same path as the three-day excursion but allows you to spend extra time in Ait Ben Haddou and see the collapsing Kasbah Telouet. It also takes advantage of the slower pace to stop at several charming boutique hotels.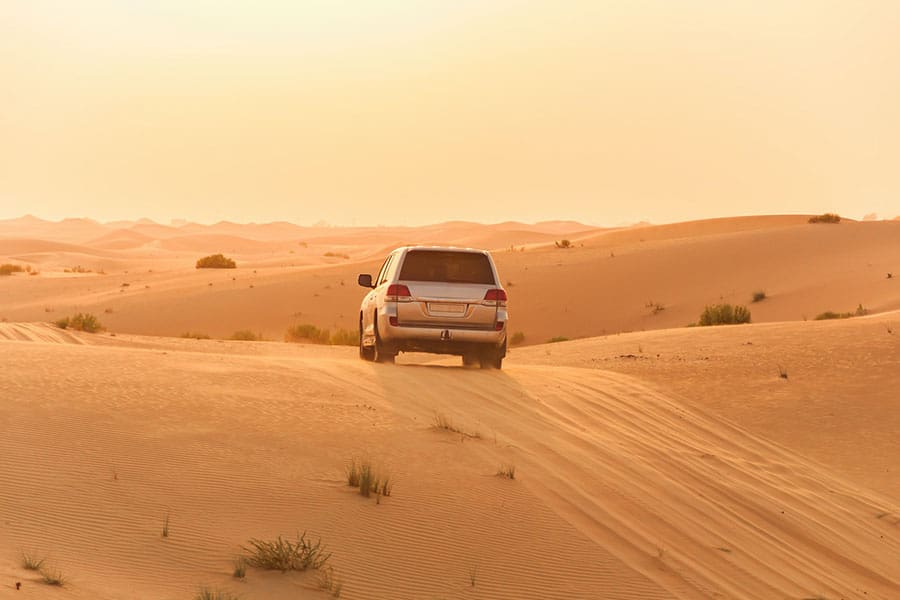 ERG CHEBBI IS A GREAT PLACE TO CAMP
Nowadays, you can find all types of desert camps in Erg Chebbi, from humble primitive tented camps to the most luxurious air-conditioned tents. However, prices significantly differ.
Basic camps consisted of goat and camel fur tents around a single table. The dinner setup and quality are pretty simple. Shared toilets are available onsite, and you can wash up the following day at the camp operator's lodge in Merzouga. Sleeping will be on thin mats on the ground. Expect to trade your modern life convenience for a unique experience at an affordable price here.
However, the most abundant camps in Erg Chebbi offer luxurious tent sets up identical to a 5-star hotel in Marrakech: Very comfortable mattresses, A/C, bathrooms, hair driers, bathrobes, etc.….
If you prefer not to camp in Erg Chebbi, you can spend the night at one Merzouga Kasbah hotel, only a few steps away from Erg Chebbi dunes.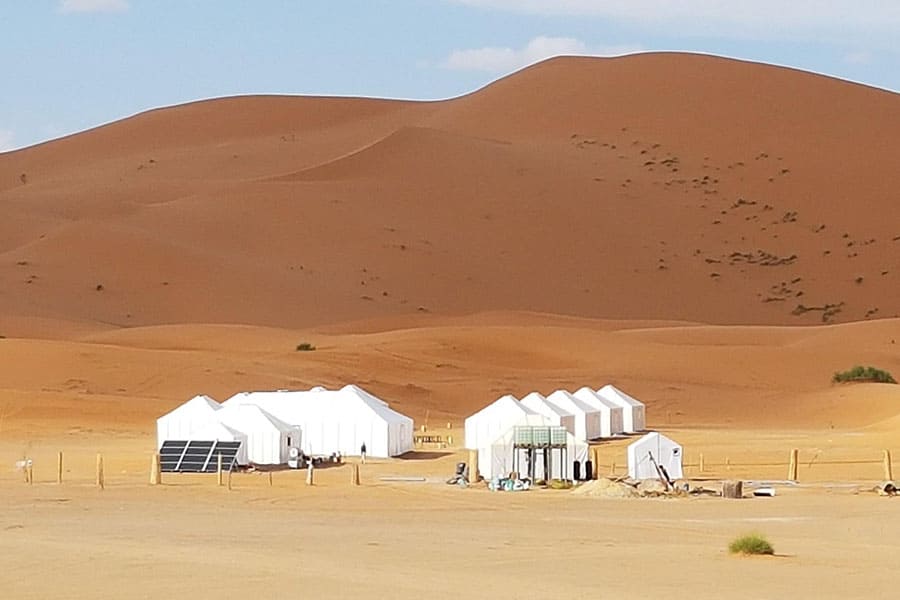 ERG CHEBBI CAMEL TREKKING
You don't need previous riding expertise to go on a camel expedition. All you have to do now is grip on tight and let the camel take care of the rest. Your camels will be tied together in a train and led by a walking guide in the front. It might seem a little precarious at first when you're seated on top of a camel (and pretty shaky). Still, as you get used to the motion, you'll be able to lean back and enjoy the breathtaking surroundings.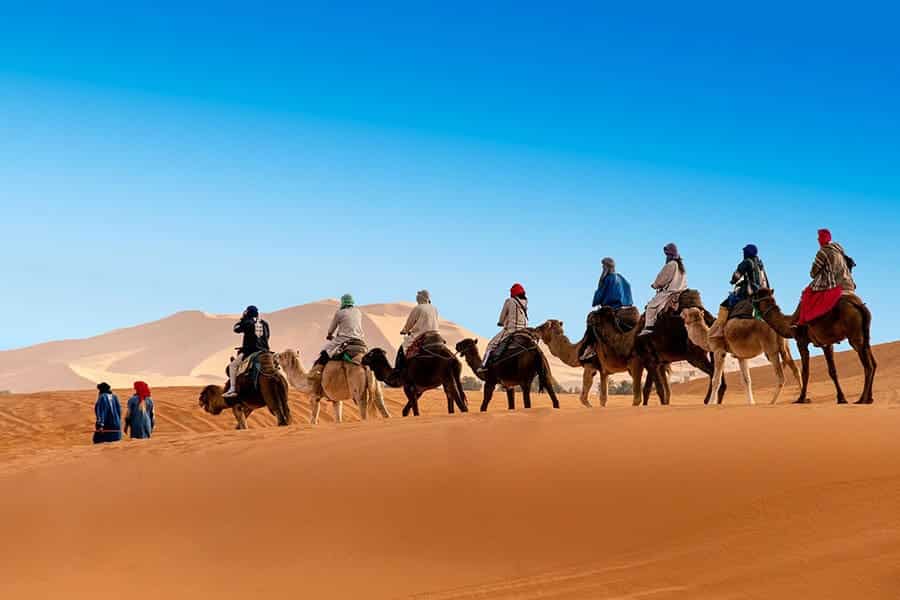 WHAT TO BRING WITH YOU TO ERG CHEBBI?
A good sleeping bag is required. If you're traveling in the winter, you'll need a bag that can be used all year. In addition, warm clothing is suggested for winter travels. For example, when riding a camel, it is more comfortable to wear long trousers. Having a nice headlamp and wet wipes is also a good idea.
WHEN IS THE BEST TIME TO VISIT ERG CHEBBI?
You may come all year. However, many tour companies do not provide Morocco desert tours during Ramadan due to the enormous distances required. In addition, it is difficult for guides to drive long miles in the heat without food.
Between November and March, temperatures can be pleasant in the sun during the day, while nighttime lows can be as low as -5. Midday temperatures in the summer can reach 45°C. As a result, most trips schedule camel trekking around dawn or sunset.