General information
Size and Population 
At 446,550 square kilometers, Morocco is a country of great geographical diversity and culture. From the snow-capped Atlas Mountains to the Sahara Desert, this beautiful country has much to explore. The population of Morocco is 37 million people, which makes it one of the most populous countries in Africa.
Morocco has a young population, with 27% of its citizens under the age of 15. This youthful demographic provides an energetic workforce that can drive economic growth for years to come. In addition, the median age of Moroccans is just 29 years old as of 2018 – meaning that half the population is younger than this! With such a large proportion of young people, Morocco has tremendous potential for future success.
Religion 
Almost all the Moroccans are Muslim. Christian is only 1 percent. At the same time, Jewish people account for a small minority, estimated at around 6000.
Languages 
Morocco boasts an array of languages: Arabic, Berber (Tarfit, Tamazight, and Tashelhaït), and French – all officially recognized. Additionally, Spanish is still prevalently spoken in the region's northern territories; likewise, English has been embraced by many young folks, particularly those living near tourist hotspots.
Politics 
On March 2, 1956, Morocco finally gained independence from French and Spanish rule. King Mohammed VI took over as head of state on July 30, 1999, succeeding his father, Hassan II. An elected legislature chooses the current government. It is run by Prime Minister Aziz Akhannouch of the NRI (Party of the National Rally of Independents).
 Education 
The literacy rate in Morocco is 68.5% (78.6% for men and 58.8% for women). This means that more than two-thirds of the population can read and write!
Where to go in Morocco?
Relax on the coast at one of Morocco's beautiful beach resorts, explore ancient cities inland, marvel at the stunning landscapes of the Rif and Atlas mountains, or experience the eerie solitude of the Sahara desert. Whatever your preference, a visit to Morocco is sure to leave you impressed.
For a true immersion into Morocco's stunning coastal scenes, venture to Tangier, Asilah, and Larache. If your heart is set on the south coast, then El Jadida, Essaouria, and Sidi Ifni have plenty of wonders in store for you! For those looking for ease of access, Agadir provides an ideal springboard from which more explorations can be undertaken.
Fez and Marrakesh offer incomparable cultural experiences. Both cities boast abundant historical sites, with Fez providing more monumental landmarks while drawing fewer visitors than its counterpart Marrakesh. Rabat and Casablanca are bustling urban centers that offer a sharp contrast to the ancient atmosphere found in Fez and Marrakesh – perfect for those searching for something modern!
The Rif and Atlas mountains are home to some of the most beautiful scenery in North Africa. Surprisingly, these mountain ranges are also quite accessible for trekking and exploring. Trekking is especially popular around Jebel Toubkal, which happens to be North Africa's highest mountain. Chefchaouen is a hidden gem in the Rif mountains that many consider Morocco's prettiest town. It truly is a best-kept secret!
If you leave the Atlas Mountains, you'll find more to explore in the pre-Saharan region. The oases around Tinghir, Skoura, Zagora, Erfoud, and Tata offer a stunning contrast of palm trees and desert horizons.
If you're looking for places to get off the beaten track in Morocco, check out this list of 7 unspoiled locations in Morocco. This list of undiscovered sites in Morocco will help you discover more places to visit.
Best time to visit Morocco
Weather-wise, the best time to visit Morocco is during spring (April and May) and early autumn (September and October). The climate is pleasant and summery at this time, making it ideal for exploring the country. However, during the height of summer, most of Morocco gets incredibly hot, especially in the southern part of the country. This makes it difficult to do much sightseeing during the day. Winter is an excellent time to explore the south and the Sahara without the heat, but it can get very cold at night.
How to travel to Morocco
If you want to travel to Morocco, flying into Casablanca's Mohammed V International Airport or Menara airport in Marrakesh is the best way. Fares are usually highest around Christmas and New Year, as well as July and August. You can also expect higher fares on weekend flights. So book your flight as far as possible to get the best deal.
Getting to Morocco from Europe
Are you looking to book a flight from the UK to Morocco? Royal Air Maroc and British Airways both fly direct from London Heathrow Airport (LHR) to Casablanca Mohammed V International Airport (CMN), as well as from Gatwick Airport (LGW) to Marrakesh Menara Airport (RAK). You can also find indirect flights with connecting stops in major European cities like Paris or Amsterdam.
Flying to Morocco from the US, Canada, Australia, and New Zealand
Voyagers can make their way to Casablanca from New York and Montreal with Royal Air Maroc or Air Canada operating direct flights. In addition, European airlines provide indirect services, allowing travelers to transfer at one of Europe's hubs. Unfortunately, there is no non-stop service between Morocco and Australia, New Zealand, or South Africa. However, the possibility remains for an indirect journey via a connecting flight in Europe or the Middle East.
How to travel around Morocco
Morocco is a beautiful country with plenty of transport options to get around. The rail network connects the main towns in the north, and many bus companies run all over the country. Buses can sometimes be slow and overcrowded, but they are still a good option for shorter journeys. You may prefer to use one of Morocco's grand taxis for longer trips. These taxis usually seat six people, so it is a more comfortable ride. You will also save money by sharing the cost with others.
10 Best places to visit in Morocco
With so many exciting places to see, deciding where to go in Morocco can take time. So to help you make the best decision, we've compiled a list of the best ten must-see attractions in this amazing country. From the bustling Marrakech to the towering Atlas Mountains, there's something for everyone in Morocco.
Chefchaouen
It is one of Morocco's most picturesque and inviting towns, located in the Rif Mountains, with a Medina full of beautiful pastel-blue houses – perfect for exploring.
The Koutoubia Mosque 
A simple but beautifully proportioned building with a minaret is the perfect example of Almohad architecture in North Africa.
Ouirgane 
This area, nestled in the shadows of the towering High Atlas Mountains, is a paradise for nature lovers. From tranquil hiking trails to breathtaking views and invigorating outdoor pursuits year round—but particularly during the crisper months—it's not hard to see why it has become so popular!
If you're looking for a fantastic waterfall to visit in Morocco, look no further than these! With overhanging cafes and a thunderous sheet of water plunging into the pools below, they offer a dramatic experience.
Fez
It is a city that has been frozen in time. With its labyrinthine streets and hidden treasures, it's easy to feel like you've stepped into another world entirely. From the iconic Medersa Bou Inania to the bustling souks, there's something for everyone in Fez.
Telouet
The kasbah of Telouet is an abandoned fortress that recalls the days when the Glaoui clan lorded over the Atlas Mountains and Marrakesh. The imposing structure looms over the surrounding countryside, a reminder of a time when power and influence were concentrated in the hands of a few. Today, the kasbah is a popular tourist destination, offering visitors a glimpse into another world.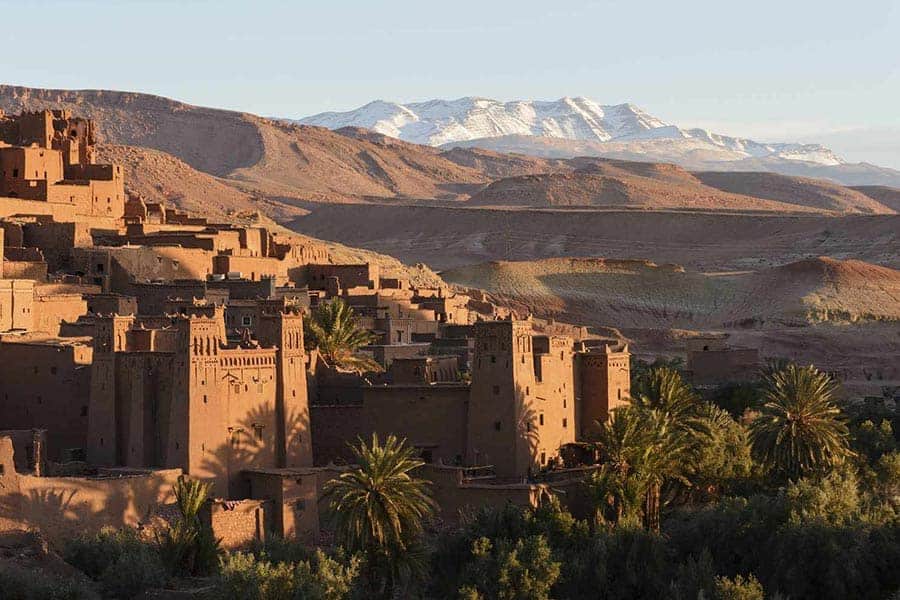 Essaouira 
Morocco's idyllic oasis by the sea has long been a hub for diverse cultures and lifestyles. The city's picturesque Medina and refreshing beachfront offer the perfect setting for a thriving arts scene, a relaxed getaway from the country's more crowded cities, and an array of dining options.
Casablanca 
Casablanca's colonial architecture is a beautiful blend of traditional Moroccan designs and French Art Deco, creating a unique Mauresque style. The city is also home to the magnificent Hassan II Mosque, one of the largest in the world. Non-Muslims are welcome to visit this incredible site.
Asilah 
Asilah is a charming beach town with a rich history and culture. The Medina is full of beautiful pastel-washed buildings, and the International Arts Festival is a must-see for any art lover. In addition, the best beach on the northwest coast can be found here, making Asilah the perfect place to relax and enjoy the Mediterranean Sea.
Volubilis and Moulay Driss 
Volubilis is a beautiful Roman ruin that should not be missed. The site is very well preserved, and the views are stunning. Moulay Idriss is a holy Islamic town that is worth visiting. It is small but has a lot of character.
Morocco Tour itineraries 
When planning your trip to Morocco, be sure to consider what you hope to see and do, and figure out how many days you need for a Morocco tour. Whether taking in the bustling old cities of Marrakesh and Fez, hiking among the peaks of the Rif and Atlas mountains, or experiencing tranquility in the Sahara desert, you can tailor your Morocco tour to fit your needs. Contact our sales team, who will assist you in tailoring your perfect Moroccan holiday.
Accommodation in Morocco
When looking for where to stay in Morocco, remember that hotels in big cities and resorts are usually pretty busy during the summer months. So if you want more choices, booking your hotel room well ahead of time is a good idea. And suppose you're planning to visit Morocco during the winter, make sure to find out whether the hotel has heating. In that case, it can get very cold there, and bedding is often inadequate. With all that in mind, Morocco has plenty of great accommodation options to suit most budgets and needs.
Hotels
When choosing a Moroccan hotel, you can go with an unclassified hotel. These are often the cheapest option, but they can be in good locations. Or, you can choose a classified hotel. These hotels usually cost more, which only sometimes guarantees a better quality experience. It's important to do your research before booking to know what to expect and make the best decision for your needs and budget.
Riads
For something different in Morocco, you might try a riad or Maison d' hôte. These are typically eighteenth- or nineteenth-century Medina townhouses that have been refurbished. They are generally more expensive than hotels but provide a nicer stay if you want to make it classier. A house must have a garden to be classified as a riad. The garden is usually divided into quarters with a central fountain. Townhouses with rooms around one courtyard are called Dars.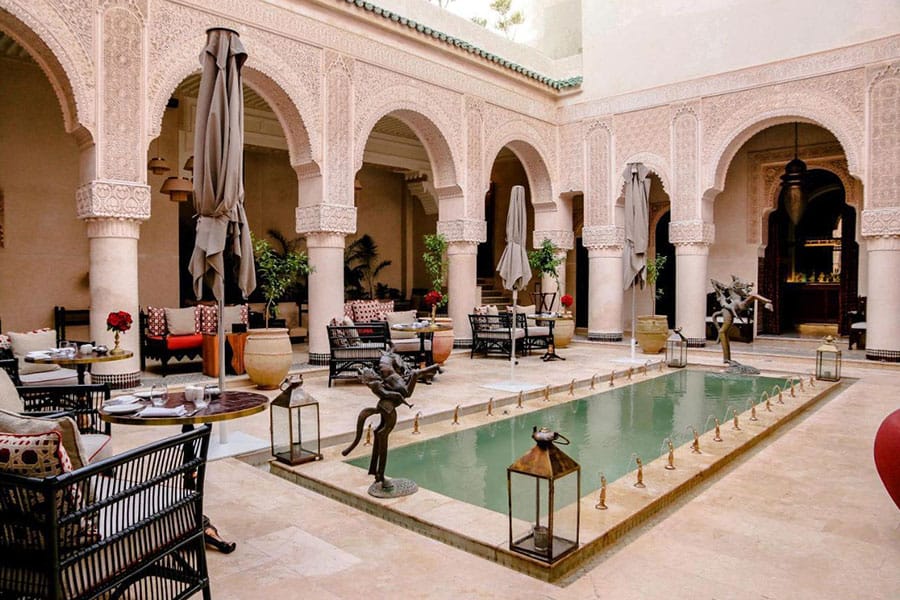 Changing money
The Moroccan dirham (MAD) is the official currency of Morocco, made up of 100 Santimat (or centimes). However, if you try to convert your British pounds to Moroccan dirham online, you'll need help. That's because the Dirham is a closed currency – meaning you can't take it in or out of Morocco.
If you prefer to use cash in Morocco, it's best to bring money and exchange it once you arrive. You can also withdraw Moroccan currency directly from ATMs using your debit card. Still, you may incur charges from your bank for this service.
Most credit cards are widely accepted in shops and restaurants in bigger cities, but you may have to pay a processing fee.
There is no limit on the amount of foreign cash you can bring into Morocco. You can exchange US Dollars, Euros, and British pounds here without a problem. However, please remember that you won't be able to exchange Australian Dollars or Scottish or Northern Irish banknotes. It can also be complicated to exchange travelers' cheques here. Hence, a currency card is a much better option for your travel money.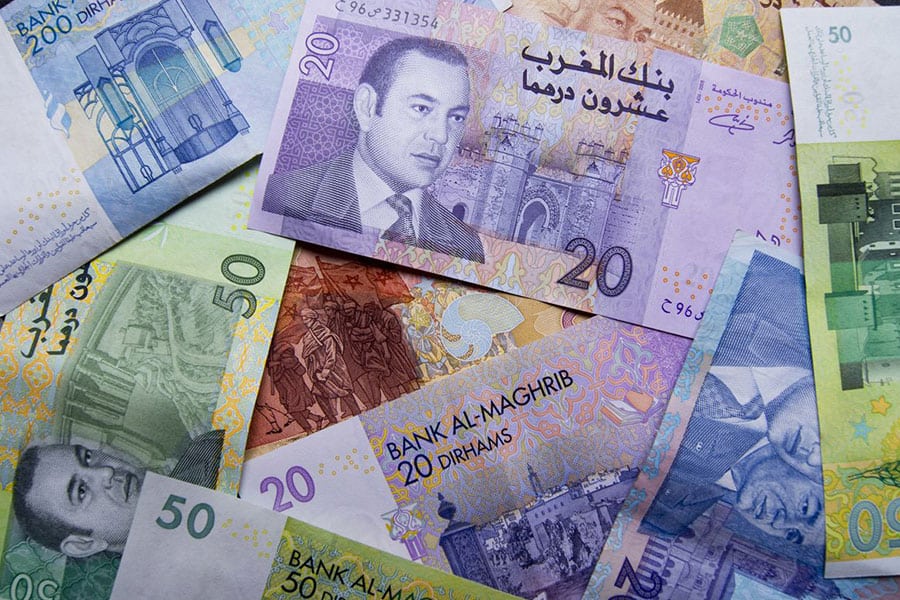 As Moroccan dirhams cannot be taken out of the country, you should spend any Moroccan Dirhams you have or convert them back before leaving. To avoid currency conversion fees, plan your spending and ensure you have enough money left when traveling home.
You can trade in your money at the airport when you land, but you'll probably get a better rate in independent exchange booths in town. Remember to keep the receipt if you have any Dirhams left over by the end of your stay in Morocco. That way, you'll only withdraw cash as you need it while you're away, so it's a great option if you want to avoid being stuck with lots of notes or coins in your pocket.
Food and beverages in Morocco
Eating in Morocco
To experience authentic Moroccan cuisine, start with the classic Harira soup. In almost every restaurant, you'll find Tajines made of beans, beef, and spices. The traditional Tagines are lamb with prunes and almonds, chicken with olives and lemon, and couscous served with many different dishes. If you're looking for something unique, try Pastilla: a meat pie made with filo pastry. Camel meat is also common in Moroccan cuisine. There is little street food scene in Morocco, but you can find many stalls and street food in Marrakech Medina.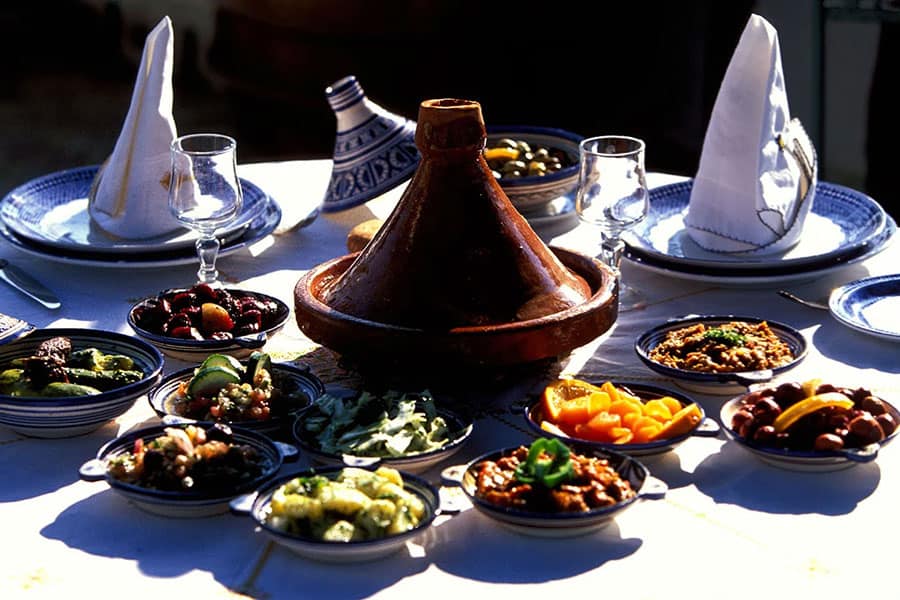 Drinking in Morocco
Morocco's national drink is Mint tea, which you will find alongside a wide range of teas and herbal infusions. Nus-Nus (half coffee, half milk) is a popular beverage nationwide. Delicious, freshly squeezed juices are common at cafes and street stalls. Although tap water is generally safe, most tourists stick to bottled mineral water. As a Muslim country, drinking alcohol isn't a big part of Moroccan culture. Still, it is nonetheless available in bars and big hotels.
Moroccan Etiquette and culture
Morocco is great for tourists, as the people are generally very welcoming and tolerant. However, respecting local religious beliefs is still important to avoid accidental offense. Wearing skimpy clothes or engaging in public displays of affection during Ramadan, for example, will undoubtedly cause problems. It's, therefore, wise to take care with your choice of clothing when visiting rural areas where people may be particularly offended by the exposure of body parts that are considered private. The best policy is usually to dress as the locals do.
Sexual harassment
Sexual harassment in Morocco is a problem that has developed over time. Moroccan men often misunderstand Western culture and attitudes towards sex, which can lead to persistent and unpleasant sexual harassment of women travelers. While this behavior can be extremely irritating, it rarely gets threatening or violent. There are some ways you can minimize the chances of being harassed, though, by following the same precautions you would take at home.
Is Morocco a safe country?
Morocco is generally a safe country to visit, but there are some things you should be aware of in terms of crime. Although the crime rate is low, pickpocketing and credit card fraud are relatively common. It's therefore advisable to take precautions such as carrying only small amounts of cash and keeping your valuables close at hand. Also, keep it in sight when paying by credit card to avoid stealing it.
How to avoid scams in Morocco?
Your best chance of avoiding scams and swindlers in Morocco is to use accredited guides only, identifiable by their large, brass "sheriff's badge." Unlicensed guides approaching you on the street may well be legitimate, but there is little way of figuring it out. On any city tour, official or otherwise, make it abundantly clear that you are not interested in shopping or being taken to a hotel; more often than not, these places pay the guide commission – which will be added to your bill later. If you are dragged into a store – usually one selling carpets – don't feel pressured into buying anything, no matter how intense the hard-sell tactics or abuse gets. The best way to avoid these scams, is to contact your Morocco tour company to arrange a guided Medina tour for you.
Health advice for Morocco travel.
For minor health complaints, a wide range of drugs are dispensed at pharmacies, and they are usually sufficient. However, for anything more serious that requires hospital treatment, state hospitals in large cities are adequate for anything up to minor surgery. But a private clinic or even repatriation may be your best option for anything more serious.
Vaccinations for traveling to Morocco
Vaccinations are not currently required for visiting Morocco. Still, it is important to be up-to-date with polio and tetanus. In addition, for extended stays in Morocco, vaccinations against typhoid, hepatitis A and B, TB, diphtheria, and rabies might be considered. Although malaria levels exist in Morocco, strains are not life-threatening, and pills aren't necessary unless you fall ill. The best way to avoid mosquito bites is to apply repellent to all exposed areas of your skin. Street dogs in Morocco can be aggressive and potentially rabid. The best advice is to avoid getting up close to them and, if bitten, immediately seek medical help.
Covid 19
Currently, the Moroccan government has decided to lift all restrictions on incoming travel via land, air, or sea. The only requirement is that each traveler presents a completed health form upon arrival. This can be quickly done by downloading the form online before your trip. If you forget or are unable to do so, don't worry! They will also be available at airports and ports upon arrival in Morocco.
As for current information on covid-19's effect within Morocco, please click this link: http://www.covidmaroc.ma/
Cost of travel around Morocco
Morocco is a great travel destination for budget-minded travelers. Food, accommodation, and travel costs are all relatively low compared to Europe and North America.
Accommodation prices
You can find affordable accommodation for as little as €15/£13.50/$17.50 per night for a double room in a basic hotel. However, if you're looking for luxury, you can expect to pay up to €500/£450/$590 per night for a top-rated hotel or riad.
Food prices
Food costs in Morocco are very reasonable, especially compared to Western prices. For example, a meal in a basic restaurant will only cost you around €6/£5.50/$7, while the top establishments can charge as much as €75/£67/$88. Alcohol is the only thing that is comparable to Western prices.
Transport prices
If you're traveling in Morocco, getting around doesn't have to cost the earth. Hiring a car may be expensive, but trains, buses, and shared taxis are much more affordable! So you'll save money while seeing all this incredible country has to offer.
Visa requirements for Morocco
If you are a full passport holder from the UK, the US, Ireland, Canada, Australia, New Zealand, or any EU country, you do not need a visa to enter and can remain in the country for up to 90 days. However, checking the visa requirements before departure is always essential as they may change. Upon arrival in Morocco, you will need to fill out a form with your personal details, profession, and purpose of visit. South African citizens require a visa to enter Morocco and should make applications to the Moroccan embassy or consulate in their country of residence.
For up-to-date information, visit https://www.consulat.ma/en/list-countries-whose-citizens-are-exempted-entry-visa-morocco
Shopping in Morocco
The markets in Morocco, known as souks, constitute a significant appeal for tourists. These can be found in every town across the country, but the most impressive ones are in Fez and Marrakesh. When browsing through the souvenirs on offer at these markets, it is crucial to remember how you will transport them home. It is also wise to be cautious of any fake or counterfeit merchandise on sale. Some authentic Moroccan gifts and products that would make great souvenirs include beautiful craftwork items, semi-precious stones, fossils, or some delicious foodstuffs – all of which can be bought at a bargain if you haggle skillfully!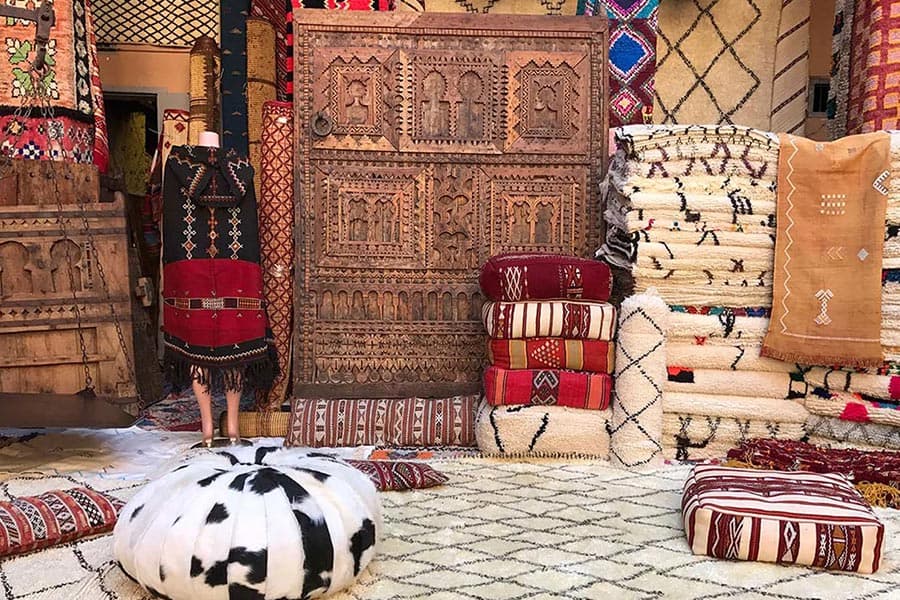 Outdoor activities in Morocco
Morocco is a country with endless opportunities for outdoor activities. There are many different trekking routes to explore, golf facilities, and ski resorts. For those who enjoy a challenge, there is also the opportunity to go off-piste skiing. In addition, Morocco has excellent fishing spots, especially in the Middle Atlas Mountain lakes and the Atlantic coast.
Trekking 
Trekking in Morocco is an unforgettable experience. The High Atlas Mountains are home to some of the world's most beautiful scenery and offer some of the best hiking trails. However, many people stick to shorter hikes in the Jebel Toubkal area. Still, other great destinations include the Jebel Sirwa and the western High Atlas Mountains. And, in the winter, Jebel Saghro and Tafraoute region of the Anti-Atlas. The Middle Atlas also has lovely walks and hikes, such as around Tazzeka (Taza) and Azrou.
Skiing
Although it may not be the first country that comes to mind, Morocco is a great place to go skiing. The High Atlas mountains experience snowfall from late January through early April, making for excellent conditions at Oukaïmeden ski resort. Additionally, off-piste skiing has become popular in recent years among locals and tourists. The Toubkal massif is especially well-known for its beautiful scenery and challenging slopes. For those interested in skinny skis or snowboarding, Azilal, Ait Bou Guemaz, and Ighil Mgoun areas are also worth exploring. No matter your level of expertise, there are plenty of ways to enjoy the sport while surrounded by stunning natural landscapes.
Camel trekking 
Camel trekking through the desert is a popular activity for tourists in Morocco. Camels have been used as a mode of transportation by people in desert regions like the Middle East and Africa for centuries, so participating in a camel trek is a great way to learn about the tradition and history of these areas. Additionally, camel treks allow visitors to see some of the most beautiful and unique landscapes of Morocco Sahara Desert.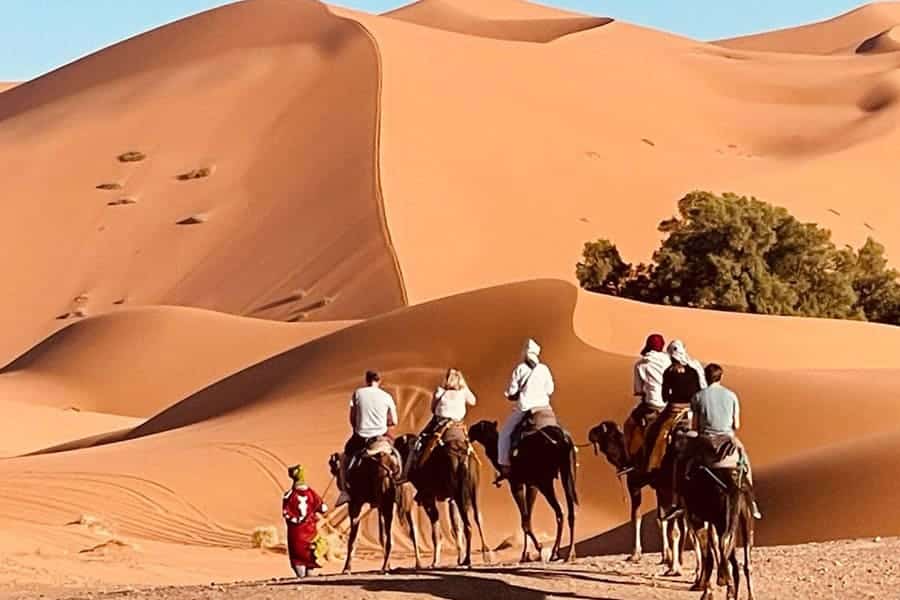 Fishing
Fringed by the Atlantic Ocean and graced with a modest Mediterranean shoreline, Morocco is an ideal destination for those seeking aquatic adventure. From Safi to Essaouira, Moulay Bousselham (near Asilah) to Boujdour and Dakhla – all are ripe for boat trips! There's also serene beauty in the Middle Atlas region; think glistening lakes brimming with trout and pike at Aguelmame Azizgza near Khenifra. Plus, make sure to take advantage of Bin el Ouidaine close by Beni Mellal, where bass of remarkable size abound! Finally, with so much natural grandeur just waiting to be explored around Azrou near Aghmas Lakes, Ifrane beside Zerrrouka, or Ouirgane alongside Nfis River, there will be plenty of fishing locations to explore around the country.
Swimming and watersports
If you're looking for a place to enjoy some water sports, Agadir is the perfect spot. You can go sailing, yachting, windsurfing, or diving here. Just to the north in Taghazout, there is also a great surfing village with board rental and repair shops and some great surfing sites. There are also lesser-known surfing spots at Sidi Ifni, Mirleft, Kenitra, Bouznika Plage, El Jadida, Safi, and even Rabat. You could explore all of these different places down the coast with your transportation. Keep in mind that during peak season (October-February), all of the breaks can get pretty busy since deep lows come barrelling east across the mid-Atlantic.
Windsurfing enthusiasts flock to Essaouira year-round for the perfect conditions. The town is situated on a windy coastline, making it ideal for those looking to catch some waves.
Despite the Atlantic's crashing waves and strong undertows, many people still enjoy swimming, surfing, and windsurfing in its waters. Inland, most towns have municipal swimming pools open to the public. However, women should be aware that these pools tend to be dominated by teenage boys. You may have to rely on campsites or hotel pools in the south. But many of these luxury hotels allow outsiders to swim for a fee or if you purchase drinks or food from them. So don't let the strong currents deter you from enjoying the Atlantic Ocean!
The High and Middle Atlas mountains have become a popular destination for kayaking and whitewater rafting enthusiasts. The scenic rivers offer challenging rapids for experienced rafters, while the calm waters are perfect for beginner kayakers.
Golf
The British have had a golf course in Tangier since 1917. Today, Morocco has an international-level course at Rabat, eighteen-hole courses in Mohammedia, Marrakech, Tangier, Agadir, Cabo Negro, Saïdia, Larache, El Jadida, Essaouira, Fez and Ben Slimane (Royal Golf Club of Morocco), and nine-hole courses across Meknes Ouarzazate and Bouznika. In addition, there are plenty of opportunities for Moroccan golfing holidays, with many tour operators offering all-inclusive packages.
The Berbers and Arabs in Morocco
The Berbers were the initial population of Morocco. During the closing years of the seventh century, Arabs arrived after penetrating North Africa and the Middle East with their radical ideology – Islam. Eventually, most Berbers embraced this faith, and they became accepted by fellow Muslims together with other Arabs as well. When the Muslim armies invaded the Iberian Peninsula from Morocco, most troops were Berbers. Although most Moroccans have both Arab and Berber ancestors, there are a few who claim to be pure Arabs. However, in the Rif and Atlas Mountains and the Souss Valley, small groups of pure Berbers retain their ancient languages. Recently, Berber pride has been resurgent, and TV programs are now broadcast in Berber languages. They are even being taught in schools. However, the majority language in the country remains Arabic.