Venturing into the Sahara Desert is an experience like no other. Spanning over 3.5 million square miles, it's one of Earth's most remarkable natural wonders – situated along Morocco and Algeria's eastern border. Whether you're searching for adventure or just a break from reality, few places on this planet can compare to its incredible landscapes!
Explorers flock here for unique opportunities, camping under starry night skies while absorbing the grandeur around them – something they won't soon forget! An overnight stay will allow you to take in what makes this dessert special truly: endless sand dunes stretching as far as your eye can see and sunsets more vibrant than any painting could capture… If ever given a chance, don't let such a once-in-a-lifetime opportunity pass by without taking full advantage of it!
Many queries about taking Morocco desert tours have been brought up throughout the years. Here are our most commonly asked questions, along with some advice for those setting off into the Sahara:
How far is the Sahara from Marrakesh and Fez? 
Traveling to these awe-inspiring sand dunes may seem daunting, but it's an adventure you will remember! Merzouga stands around 600 km (370 mi) away from bustling Marrakesh. Exciting Zagora sits a mere 360km (225 mi) further down this fascinating road trip – be sure to pack your camera for all those stunning views! If you're beginning in mystic Fez instead, prepare for 470km (290 mi). The journey reaches 670 km(415 miles) if traveling towards the magnificent Erg Chigaga dunes near Zagora. Make sure not to rush through such a unique experience; take plenty of time driving across mountain passes and highways to marvel at all that Morocco has waiting just off its beaten track. Allow up 8-12 hours one-way when heading out into desert lands – there's too much beauty here not worth slowing down for!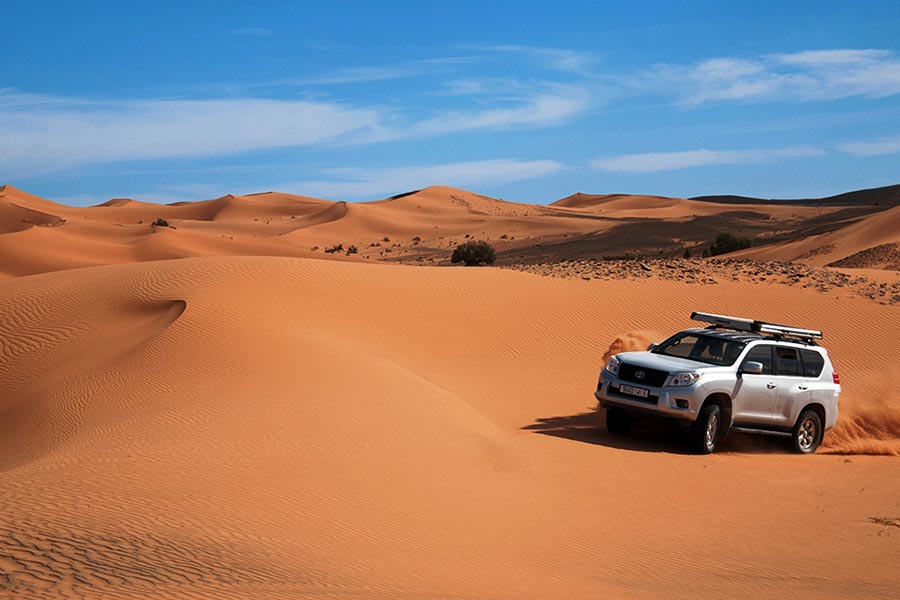 Can I take a day trip to the Sahara desert? 
While possible, it may be more challenging than you think. For example, if you planned to travel from Marrakesh or Fez, unfortunately, both cities are far from the desert. In addition, it's important to note that getting there will take some time – at least an entire day! So while a visit can certainly be arranged, remember that planning and allowing ample travel time is vital.
If you're pressed for time or not a fan of sleeping in the wilderness, don't worry! You can still experience all the Sahara Desert offers during daylight hours. To make this happen, select an accommodation as your home base, which is located close enough to dunes so that they are easily accessible. For example, if Erg Chebbi interests you the most, consider staying at Erfoud or Merzouga. On the other hand, if Erg Chigaga catches your eye more than anything else, look into booking accommodations along Draa Valley near Zagora, or Foum Zguid instead.
Is one day enough in Morocco Sahara Desert? Or shall I stay for two?
If you can do it, why not stay for two nights in the vastness of the Sahara Desert? You can wander around and discover its captivating beauty at your own pace. First, take a camel ride during daylight hours; then, as night falls, settle down with locals under an endless blanket of stars – singing, dancing, or simply marveling at all that surrounds you! Alternatively, spend one evening sleeping on comfortable beds beneath billowing tents amidst dunes made golden by moonlight. This rare opportunity is second-to-none, so drink it up while you can!
I'm torn between the two! Shall I opt for Erg Chebbi or decide on Erg Chigaga dunes?
The alluring Erg Chebbi and Erg Chigaga sand dunes are the top choices for adventurers exploring the Sahara Desert. While they offer contrasting experiences, it is often said that Erg Chebbi stands apart as a more accessible destination due to its proximity to modern lodges in Merzouga, merely thirty minutes away by camel! So why not take advantage of these nearby accommodations and relish an awe-inspiring journey into this sprawling desert?
Erg Chigaga's dunes provide an exciting journey for those wishing to explore the unknown. Situated 60km from M'hamid, travelers must endure around two hours in 4x4s, and half-day camel rides through rocky terrain until arriving at this spectacular sand desert. Though access is more challenging compared to other destinations, it also ensures that there are no significant numbers of people, which add significantly to its secluded charm!
Both sand Erg Chebbi and Erg Chigaga dunes provide a great chance to take camel rides, ascend the dunes, feel the cinnamon-scented and sugary granules flowing through your fingers, behold stunning scenes, spend nights beneath heavenly bodies and experience amazing sunrises.
What do I need to pack for a Morocco Sahara desert tour?
When heading out on a desert tour, it's crucial to pack certain items. Don't forget:
A windbreaker or light jacket for chilly nights;
Comfortable pants that will protect your legs from the rough fur of camels;
Proper footwear such as sneakers, hiking boots, or sports sandals;
A headscarf or hat to shield yourself from sun and dust exposure;
Chapstick and sunscreen are essential in protecting you against harmful UV rays.
A camera is necessary to capture memories of your wonderful experience in the desert
Remember accessories like lens cleaning tools, waterproof bags, etc., which keep sand from damaging your valuable equipment.
A flashlight is also essential at night when camping under starry skies,
And finally, remember an extra day's supply of any medication just in case there aren't many pharmacies around!
Ensure these essentials make their way into your backpack before starting an exciting journey.
What is the appropriate to wear in the small Moroccan desert villages?
Morocco is a traditionally rooted nation that values modesty in dress, so it's essential to be aware of your attire. This especially applies to rural areas like the Sahara and its neighboring villages. As an overall guideline, try wearing clothing that conceals individual body parts; for females, this means covering up arms (at least shoulders) and knees upwards, while males should cover their shoulders and anything above the knee line.
What to do in the Moroccan Sahara Desert?
In Morocco Sahara desert, one could be surprised by the wealth of activities beyond traditional camel rides and night-sky gazing. There's a wealth of activities waiting for you to discover :
Search for fossils. This area holds a wealth of natural history and numerous renowned spots to unearth a fossil you can take home as your prize.
Experience life with semi-nomadic people. With an experienced guide translating, learn about their culture and way of living firsthand!
Hear Gnawa Music – popular in Morocco but traditionally coming from the desert; Khamlia is just one place to listen to this traditional music genre that will enchant you with its rhythmical beats…
Meander through sand dunes – let yourself wander off into unexplored places atop your faithful camel or 4×4 vehicle!
Tour Sijilmassa near Rissani and Merzouga: once one of the biggest trade stations connecting Africa via Morocco down south towards Egypt, Sudan & Ghana — explore it now!
Shop around local markets – don't miss out on Tuesday/Thursday/Saturday market days at Rissani or Wednesday / Sunday ones in Zagora for some fantastic shopping opportunities!
As the sun sets, a magical soundscape of music and blazing campfires fills the air in desert camps.
Experience the magic of desert skies at night and discover the fascinating astronomy of its nomadic inhabitants. It's an enriching experience that you won't want to miss!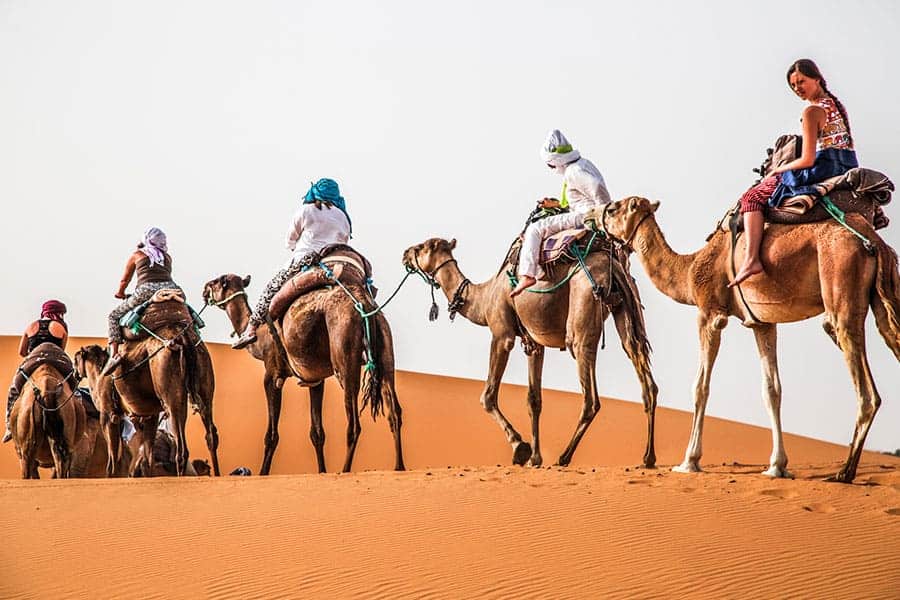 When is the best time to visit Morocco's Sahara desert?
If you're planning a trip to the Moroccan desert, it's best to go between May and October. This time of year offers more moderate daytime temperatures compared to other seasons. However, if you plan on visiting during Saharan winter (especially in December or January), be prepared for nighttime temperatures that can drop below freezing. Sandstorms are also expected from January through May.
It's worth noting that summer months (late June-early September) should be avoided due to extreme heat – with July and August reaching highs up 50 degrees Celsius (120 degrees Fahrenheit). Therefore, make sure your Morocco tour align accordingly so that you have an enjoyable experience exploring this beautiful desert landscape!
What to be aware of when visiting Morocco Sahara desert with children?
Don't let your family hold you back from experiencing the thrill of a desert adventure! Even if you're bringing kids along to explore the Sahara, there are just a few extra things to keep in mind for an enjoyable and hassle-free journey :
Before setting off, be sure to load up on SPF 80+ sunscreen. It should be liberally applied all over the family every two hours;
Ensure you bring lightweight, bright-colored long-sleeve tops and wide hats for everyone, along with sunglasses, lip balm, and a hydration formula in an emergency.
If your kids are not used to such lengthy journeys by car, it is recommended that you book private tours or a rental car to make occasional breaks when necessary.
Check if the air conditioning runs properly – children under 12 years old can become prone and easily affected by heatstroke; have them sit in shaded areas inside the vehicle where possible, too – using a scarf or baggy shirt draped over windows will act like sunblock!
To keep boredom away during those extended drives, prepare some tech-free activities plus healthy snacks for your little ones beforehand!
Parents, it's essential to consider that younger children may feel intimidated by the height of camels.
To avoid discomfort during your trip, have a backup plan in place if they are too scared to ride them and need an alternative mode of transportation.
Once you arrive at the campsite, be prepared for a traditional Moroccan dinner featuring tagine chicken and vegetables. However, some kids might need to be more adventurous with their taste buds. Therefore it's recommended to bring along easy meals such as dry pasta, which can easily pack well into your luggage; olive oil will also be available on site.
The desert is known for its pitch-black nights, so remember to bring nightlight!
Last but certainly not least – remember swimsuits! Many accommodations outside sand dunes offer swimming pools perfect for cooling off from Morocco's heatwave temperatures.
Shall I take an organized Morocco desert tour or travel independently?
When it comes to traveling in Morocco, the decision between independent travel or an organized tour ultimately depends on your personal preferences and style. Going independent is a viable option for those experienced with solo travel and fluent in French or Arabic, as guidebooks can provide basic information. At the same time, public transportation offers access throughout the country. However, venturing into the desert's remote areas alone should be avoided at all costs.
On the other hand, choosing a private tour allows for deeper immersion into Moroccan culture through daily interactions with locals and expert guides leading you to some of its best-kept secrets. Our selection of private tours provides opportunities to explore the Sahara Desert's hidden gems like never before! Take advantage of this unforgettable experience!
Does Enchanting Morocco organize desert safaris?
Absolutely! At Enchanting Morocco, we offer customizable circuits that will take you on an unforgettable journey through the Sahara Desert. Our 3 Days Tour from Marrakech to Merzouga is a perfect choice for those who want to explore interesting parts of the Moroccan desert and includes exciting activities such as a one-hour camel ride, watching the sunset over Erg Chebbi dunes, and spending a night in traditional Bedouin-style tent in the heart of Sahara. For those looking for something less touristy but equally thrilling, our 4-day Erg Chigaga Tour starting from Marrakesh, takes you off the beaten path to discover hidden gems like dunes at Erg Chigaga.
All our tours are fully customizable according to your preferences. Feel free to contact us if there's anything specific you'd like included or excluded during your trip. With Enchanting Morocco by your side, rest assured that every detail has been taken care of – all you have left is to enjoy this once-in-a-lifetime experience!
If any questions arise about visiting the majestic Sahara with us, please don't hesitate to reach out via message or call today – we're always happy to help!