A trip to Morocco would only be complete with seeing the stunning Saharan sand dunes. Whether you choose to visit the Erg Chebbi dunes near Merzouga or the Erg Chegaga dunes near M'hamid, you're in for an unforgettable experience. Both options involve a long car ride (8-10 hours), but it's worth seeing these natural wonders up close. Also, watching the sunset in the desert is an experience you won't soon forget.
Both sets of sand dunes are located southeast of Marrakesh, near the Algerian border. However, Erg Chebbi is the more popular destination. Hotels line the edge of the desert, so you can enjoy a comfortable room at night and explore the nearby dunes during the day.
Erg Chebbi
Well-known Erg Chebbi is the more well-travelled of these two dune systems, yet it still offers a unique experience. Its accessibility makes it incredibly convenient – that 10-hour drive to Merzouga may seem daunting initially. Still, there are unique places to explore on the way, like Kasbah Ait Ben Haddou, Dades Valley, The Rose Valley, and Todra Gorge! If you have three days/two nights to spare for a Marrakech to Merzouga tour , we suggest using them at Erg Chebbi; however, if four days or even five will make for an unforgettable trip while also allowing leisurely visits along your journey.
Once you arrive in Merzouga, a 2-hour camel trek to a camp in the dunes. Camps can vary in size and location but be warned that they might be somewhat isolated. You may hear the beat of another camp's drums drifting across the dunes. This experience might take away from the wilderness feel. However, Erg Chebbi can still fit nicely into a Morocco desert tour itinerary involving Marrakech & Fes as it sits about halfway between the two.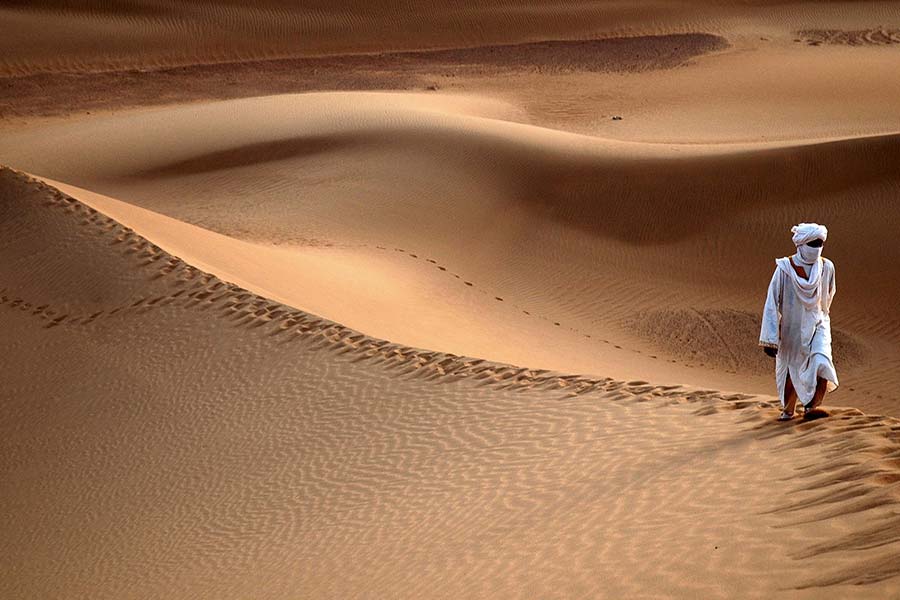 Erg Chigaga (Cheggaga) 
Erg Chegaga may be a newer destination, but it is quickly becoming more popular with tourists. Owing to border disputes with Algeria, it was open to visitors in the 1990s. However, there are now more camps and facilities than there used to be. So if you're looking for a place that still offers some solitude, Erg Chegaga has the upper hand over Erg Chebbi.
The journey from Marrakech to Erg Chegaga is a fantastic 9-hour trip that takes you through some of the most stunning scenery in Morocco. You'll pass by the gateway town of M'hamid and then continue to Ait Ben Haddou and the Draa Valley. Along the way, you'll see many oases and crumbling Kasbahs. Once you reach Mhamid, you can either continue to one of the desert camps on the dunes or trek by camel directly from there. The dunes at Erg Chegaga are not as giant as those at nearby desert locations, but the desert here is more vast and wild. So if you want to experience proper wild camping, Erg Chegaga is the place for you. It's possible to visit this fantastic dune sea in just 3 days. Still, we recommend taking your time to explore and discover all that this incredible place has to offer.