The High Atlas, Morocco's most eminent mountain array, houses some of the country's grandest and loveliest sectors. A historical as well as a physical obstruction between the northern planes and pre-Sahara regions, its Berber-populated gorges feel – not to mention are – extremely isolated from ordinary or metropolitan life. This is North Africa's premier hiking haven; casual day wanderers and serious climbers will discover captivating trails in this area equipped with astonishing hills (jebels) and beaten pathways (Tizis/ cols). Just a brief distance from Marrakesh lies Toubkal National Park, which shelters impressive Jebel Toubkal at 4167m altitude along various villages appearing frozen in time. Aside from it being the highest peak, there exist other awe-inspiring crests & hamlets you can reach by taking the aid of an experienced guide!
The allure of the remote Mud-thatched Berber villages and towering pinnacles is undeniable. The ever-changing landscape is a feast for the senses, with deep snows in winter giving way to rushing river valleys come spring; harsh summers yielding to autumnal hues that ignite the mountainside.
One of the benefits of trekking through this region is that you can walk without any burdens: muleteers and their mules are available to hire. In addition, mountain guides are an invaluable resource—particularly recommended if you're heading off the beaten track. Other options include ski mountaineering and rock climbing, while mountain biking is becoming increasingly popular on dirt tracks (pistes) and mule paths.
The Valley of Agoundis
To the East of Ijoukak, Agoundis Valley offers an alternative route to Toubkal. It requires two days of dynamic trekking from Ijoukak until one reaches the shelter near Toubkal. On foot, travelers should depart down Marrakesh road and cross the Oued Agoundis river bed before taking a right turn onto up-valley way with its grand scenes containing numerous townships in sight. After roughly an hour's walk, you'll stumble upon old factory ruins that still boast a cable gondola suspended high above the valley on account of extinct mines nearby; then, reachTaghbart village having fork like path; take the left branch for traversing across a spectacularly ascending river towards 2202 meter tall Atlas watershed's peak -Tizi-n-OuIchddane-. The subsequent course will bring about El Makhzen alongside a wedding cake-styled mansion, after which terrain narrows off, becoming more challenging as it passes perched villages leading ultimately towards the village of Ait Youl.
From Aït Youl, determined hikers can reach the Toubkal Refuge in a day by crossing the Tizi n'Ougane. However, be aware that there may be snow on the final slopes from November through May. The journey passes through wild gorges and screens, providing an adventurous experience for all who undertake it.
Amizmiz
The vibrant, arid village of AMIZMIZ lies 58km from Marrakesh. It is home to an extensive Berber marketplace every Tuesday – a must-see for any traveler. The town consists of multiple areas, including the zaouia, kasbah, and former Mellah, which are divided by a shallow river that usually doesn't contain water. Amizmiz is an ideal starting point for mountain biking in the High Atlas Mountains!
If you're looking for a less crowded place to start your trekking adventure, Ait Zitoun is the perfect spot. This hidden gem offers mule and supply services and local guides who know the area like the back of their hand. Although it can be tricky to find – it's located down a short piste veering left off the main road between Amizmiz and Ouirgane (keep an eye out for a small sign that says Gîte Ait Ziton ) – once you've reached it, you'll be glad you made an effort. One particularly recommended guide is Hassan, who can help organize walks to Ouirgane that take anywhere from three to four days. These are best done in cooler months when temperatures are more comfortable for hiking. The terrain surrounds lush and green hills in springtime before turning brown in summer and fall. Most of the route is relatively gentle, making its way through villages, valleys, and foothills; some steeper sections lead up to ridges along the way.
If you're looking for an alternative to the villages in Amizmiz, Lalla Takerkoust is an excellent option. Just 22km northeast of Amizmiz, this lake town offers stunning views of the surrounding mountains – perfect for wintertime photos with snowcapped peaks in clear view. In addition, several smaller villages dotting the landscape also make for exciting day trips. So whether you're looking to relax, take in the scenery, or explore new places, Lalla Takerkoust is worth visiting!
The Berbers of the High Atlas Mountains
The High Atlas region and its Berber inhabitants have been isolated for many years. However, this began to change when the French started their "pacification" of Morocco in the 1920s. The way of life here was feudal, based on the control of three main passes by a trio of "clan" families known as the Lords of the Atlas. Even after negotiating with these warrior chiefs, it was not until 1933 that they could subdue them and gain control over their tribal land. This only occurred with help from T'hami el Glaoui, who acted as the Pasha of Marrakesh even after pacification.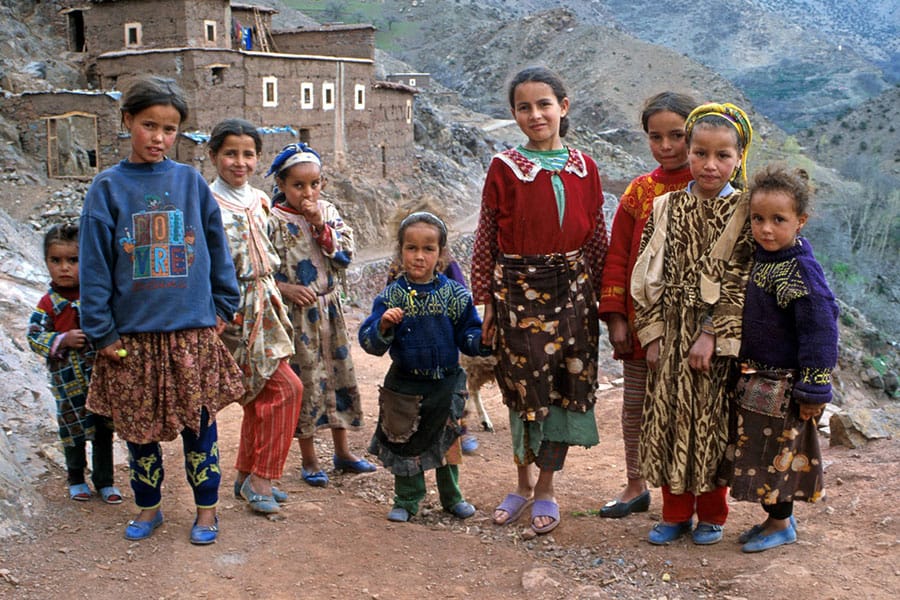 The region is now under government control, but the state's presence in many villages remains irrelevant. When trekking, you quickly become aware of the mountains' rich and unique culture and traditions. The longest-established inhabitants of Morocco are the Atlas Berbers. They never embraced a purely traditional rendition of Islam. Their regional Tachelhaït dialects remain unaltered by Arabic. Their special music and energizing Ahouache dances – in which men and women participate – are incomparable to any other; so is the architecture in villages.
Atlas Berber women go about their daily lives without a veil and have a much higher profile than their rural counterparts in the plains and north. They perform heavy labor – working in fields, herding and grazing cattle and goats, and carrying vast loads of brushwood and provisions. While it's still being determined if they have any greater status or power within the family or village, men retain important tasks such as buying/selling goods, evening/night-time irrigation of crops, plowing, building, and craftwork.
As a stranger, you'll find the Berbers incredibly hospitable and open. You'll also be struck by their ability to speak multiple languages. There's hardly a village where you won't find someone who speaks French, English, or both. The only areas where you may feel like tourism is taking advantage of locals – and kids may beg for money – are the main trekking circuits around Jebel Toubkal, where tourism has become an essential source of income. Given how difficult life is in this region, its importance is understandable.
Ijoukak 
Ijoukak is an important shopping destination where the Agoundis Valley meets the Nfis. From Ijoukak, you can easily explore Tin Mal and Talaat n' Yakoub or try some longer trekking in the valleys. The Agoundis can also be enjoyed as a day's wandering, or you can take the forestry road up the hill for its commanding view. Ijoukak is the perfect starting point for an amazing and memorable adventure.
Tin Mal Mosque
The Tin Mal Mosque is not only historically and architecturally significant, but it is also a beautiful monument. It stands isolated atop a lush stretch of the river valley, with harsh mountains in the background. It has been partially restored and is worth a visit.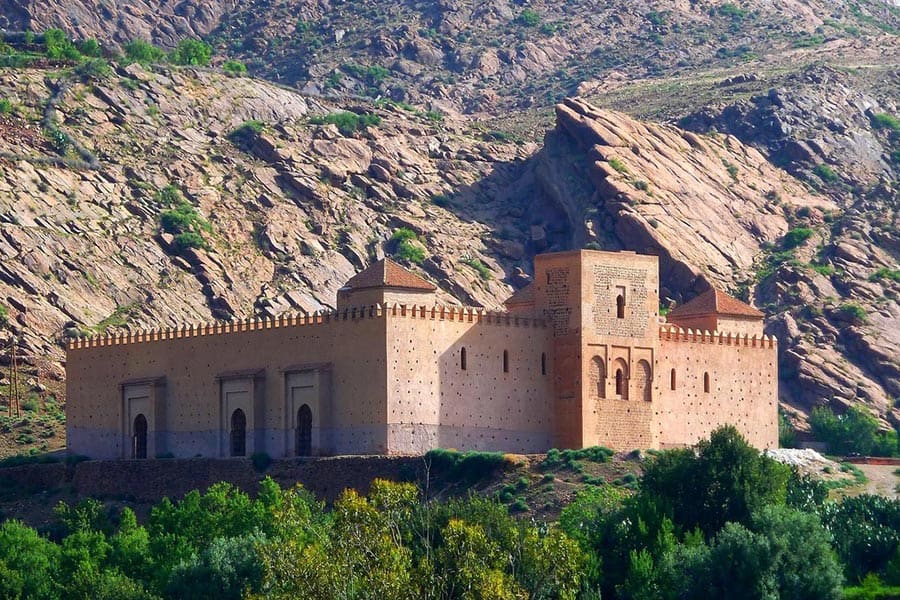 An imposing mosque is positioned atop a slight rise above the bustling hamlet of Tin Mal (or Ifouriren). As you ascend from the bridge along the winding path, its presence looms larger and more majestic with every step taken. The doorkeeper swiftly notices your arrival and unlocks it for you to explore in peace – feel free to offer him a gratuity as thanks!
History at a glance
The Tin Mal Mosque is a magnificent example of Moorish architecture, completed by Abd el Moumen in 1153-54. The Mosque was built as a memorial to Ibn Toumert, who started construction in 1125 as a Koranic school (Tin Mel means "school" in ancient Berber). The Mosque also served as Abd el Moumen's family mausoleum. The Mosque also served as Abd el Moumen's family mausoleum. Obviously fortified, the Mosque probably also functioned as a section of the town's defenses. This makes sense since Tin Mal was entrusted with safeguarding the state treasury during the early period of the Almohad dynasty. Today, the Tin Mal Mosque is the only remaining part of the fortifications. Indeed, it is the only surviving structure from the entire Almohad city. It is possible to get a clear view of what remains of this once great city that used to be home to twenty thousand Berbers before it was largely destroyed during the Merenid conquest of 1276.
The fact that Tin Mal remained standing for so long and that its Mosque was well-maintained speaks to the continuing power and influence of Ibn Toumert's teachings among the local Berber people. Even 200 years later, the historian Ibn Khaldun found Koranic readers still employed at the site. When the French began restoration work in the 1930s, they found the area littered with shrines to marabouts.
The Mosque's architecture
Tin Mal offers a singular opportunity for non-Muslims to peer into the interior of an ancient Almohad mosque. Although its roof is primarily absent and two corner towers have vanished, the mihrab (or prayer niche) and intricate archways remain intact. This superbly crafted edifice follows classic Almohad design – a T formation with a central passage heading towards the mihrab – mirroring that of Koutoubia Mosque in Marrakesh, built around this period. The lone peculiarity lies where it places its minaret above the mihrab – an engineering fault limiting how far up it could reach today!
The Almohads & Ibn Toumart
It is hard to imagine that a bustling settlement ever resided in this valley, now so secluded. Yet it did; Tin Mal was the birthplace of Ibn Toumert and his lieutenant Abd el Moumen who rallied Berber tribes under the Almohad movement and led them on campaigns that ultimately subjugated Morocco and southern Spain. Centuries later, those same lands met their match when the Merenid dynasty arrived. Still, even then, Tin Mal made its last valiant stand here.
Ibn Toumert, born into the Masmouda tribe in the High Atlas Mountains, was known to his followers as the Mahdi, or "The Chosen One." His coming was prophesied in the Hadith (Sayings of The Prophet). He was a well-educated theologian who studied at some of the most prestigious centers of eastern Islam. It was during this time that he formulated the strict Almohad doctrines. Toumert disapproved of many aspects of Almoravid Morocco and, after returning from his studies in the East, began preaching against luxury and women mixing in male society.
After being banished from the Almoravid capital of Marrakech in 1124, Ibn Toumert and Abd el Moumen set off to shape the Atlas Berbers into an army that upheld religious values. They also ardently proclaimed a "second coming" with Ibn Toumert as Mahdi. Those tribes who were hesitant faced severe consequences – most famously during what became known as The Forty-Day Purge within mountain regions; soon after, no tribe remained outside Almohad control, exterminated most notably in the Forty-Day Purge the mountains. Within eight years, all resistance to Almohad control had been eliminated.
Ouirgane
Ouirgane is an excellent destination for those looking to escape Marrakesh's hustle and bustle. The village offers stunning scenery, with its red-earth hills and pine forests, making it a perfect place to stay for a night or longer. There are plenty of activities in Ouirgane, too, such as day walks into the surrounding foothills, mountain biking, or horse riding. So there's something for everyone! Plus, don't forget to check out the small Thursday souk while you're here.
Ouirgane and the verdant Marigha area blossom in the summertime due to their location among hills. Although temperatures are lower than those in Marrakesh, it's still ideal to come here between March-May and mid-September – December.
Trekking in Ouirgane Valley
Ouirgane is a beautiful place to explore, and the ideal way to do it is by going on a day trek with a local guide. One recommended route starts in Marigha and goes south to Marigha Izdern Village (1200m). From there, you'll continue to Imareghan Noufla (1220m), where some old stone olive oil presses are still in use. From Imareghan Noufla, you'll head onward to Tinzert. Enjoy the stunning view of the Takherkhourte Peak (2500m) in the distance as you make your way to Tagadirt n'Ousni and the village of Tamgounssi. Finally, you'll descend to Asni before getting transported back to Ouirgane or Marrakesh. The whole journey will take four to five hours.
Trekking from Ouirgane to Toubkal Refuge 
Currently, the National Park Office is close to finishing a trail connecting Ouirgane to the Toubkal refuges, enabling the ascent of the summit. The track is moderate in difficulty and more straightforward than the currently established route from Imlil. Once open to visitors, it is sure to become a main thoroughfare. For up-to-date information, enquire at local hotels.
Trekking from Ouirgane to Azzaden Valley & Imlil 
The overnight trek from Ouirgane to Imlil is a great way to see some stunning views and get some exercise. The well-trodden path will take you along the edge of the beautiful Azzadene Valley. When you reach Azerfsane, head south along the major river valley, Assif n'Ouissadene, finally connecting to the town of Aït Aïssa (Id Aissa) after five to six hours. From Aït Aïssa, continue south to Tizi Oussem, where you'll change direction, heading east over Tizi Mzik, through Azib Mzikene, and finally into the Mizane Valley and on to Imlil. This second day's walk also takes about five to six hours.
Oukaimeden
The Oukaïmeden village and ski center is an excellent trekking base that is much calmer and easier to hike than Setti Fatma, especially during summer. It's also a perfect destination for those planning to climb Toubkal mountain. There are many beautiful day hikes in the area and prehistoric rock carvings worth seeing. And, of course, there are excellent skiing conditions in wintertime – making it hard not to include Africa on your list of places you've skied!
Skiing in Oukaimeden
Oukaïmeden's inclines offer the ultimate skiing experience in Morocco. They proudly feature the highest lift of any ski resort in North Africa (3273m). As a result, skiers can zip down pristine pistes or carve fresh tracks through untouched off-piste terrain. A few rudimentary drag lifts on its lower reaches allow beginners and intermediate skiers to make their way around easily. For cross-country enthusiasts, various ridges and passes are readily accessible; meanwhile, Ski Mountaineers often set out southwards towards Tacheddirt!
Even though snowfall and snow cover can be unpredictable, the ski season typically runs from February to April. The chairlifts close at the end of April, even if conditions are still suitable for skiing. You can rent equipment from several shops around the resort. Still, rates and quality can vary, so it's best to ask around before you make a decision. Ski passes and ski guides are relatively cheap (around US$8),
The wildlife of the High Atlas Mountains
The majestic High Atlas is home to an abundance of life, available even for the most reluctant wanderer when staying in Oukaïmeden, Imlil, or Ouirgane.
In springtime, its lower slopes showcase a bouquet of aromatic thyme and prickly caper blossoms mixed with sweeping swathes of the broom. Higher up are more brutal species like blue-tufted hedgehog broom that thrive over such heights. The mountain passes resound to the chorus of painted frogs and North African green toads during the breeding season while certain reptiles have adapted well – including Moorish geckos inhabiting towns' walls along these regions! Butterflies make their way here, too, from Moroccan coppers and orange desert tips as far west as England's own Painted Ladies! Other tenants include near-invisible praying mantises, scampering ground squirrels, plus rare elephant shrews interspersed throughout this majestic landscape.
The sparse vegetation of the High Atlas mountains is home to many different bird species, including Moussier's redstart and the crimson-winged finch. These birds are unique to North African ranges and can be found in grassy slopes and rocky outcrops. Up in the sky, you may see darting Lanner falcons or flocks of brilliantly colored bee-eaters. You may spot the magpie in the cultivated valleys with a uniquely sky-blue eye mark. There are also plenty of storks in this area. As the snow melts, other High Atlas birds that can be seen include shore larks, rock buntings, alpine accentors, redstarts, and many species of wheatear.
The local plant life is undoubtedly impressive. The wet meadows contain beautiful hooped-petticoat daffodils, Romulea, and other bulbs. And the Oukaïmeden in May/June has acres upon acres of gorgeous orchids in bloom.
Prehistoric rock art in the High Atlas Mountains
You can find some of the Atlas's fascinating prehistoric rock carvings just before Oukaïmeden's ski area site. Follow the sign pointing to "Gravures Rupestres." It's worth contacting our local expert Hassan for a trip to see the carvings.
The new eco-museum not only displays photos of the beautiful flora and fauna of the national park and its surroundings but also provides information about the carvings themselves. Doing so encourages visitors to appreciate and respect the natural world even more.
A curious aspect of many ancient rock formations in the Atlas Mountains and beyond are cupmarks – clusters of small, circular depressions (actor Peter Ustinov once joked that they looked like egg cups) carved into exposed rocks at ground level with no apparent purpose pattern. Cupmarks have been found in granite (western Atlas), conglomerate (Tinerhir), and sandstone(Middle Atlas), which is different from other types of prehistoric rock art.
Most of the rock carvings are detailed in the Gravures Rupestres du Haut Atlas guidebook, which can be purchased at the Oukaïmeden Club Alpin Francais chalet or some Marrakesh bookshops. Unfortunately, this helpful guidebook is only available in French.
Tizi N'Test
The Tizi n'Test pass is an awe-inspiring feat of engineering that crosses the Atlas Mountains and connects Taroudant and Taliouine. The French built the road from 1926 to 1932, making it the first route to link Marrakesh with the southern Souss plain and the desert. Before the construction of this road, passage through the Atlas Mountains was considered impracticable without local protection and knowledge. The Tizi n'Test pass is an important trade route. It has been used throughout history to control and subjugate the south.
The grand Tizi N'Test (2092m) looms 18km before it connects to the N10 – a winding passageway full of sharp turns. A refreshing yet challenging drive awaits one that yields unparalleled views and serves as an awe-inspiring entryway into Morocco's Souss region.
As you descend, the Tizi n'Test pass towards Taroudant-Taliouine road, and the views are simply stunning. The mountains jut out around the Nfiss Valley, with clusters of villages hundreds of feet below. It's a fantastic sight!
Trekking in Tichka Palteau
If you're looking to explore some of the less-traveled parts of the Tichka Plateau and the western Atlas Mountains, you'll be rewarded with beautiful scenery and the chance to experience Berber village life firsthand. Keep in mind that you will need to carry supplies and be prepared to camp or possibly stay in a village home if you're extended an invitation – which is highly likely. Sanitation conditions in the villages aren't always excellent, so bringing water purification tablets is a good idea. However, eating and drinking in mountain village homes is relatively safe, as the food is thoroughly cooked and mint tea is always available.
Leap and uncover the impressive Tichka Plateau – where grazing is kept in check. This results in meadows gleaming with color from an array of daffodils and flowers. Climb to Imaradene (3351m) or Amendach (3382m), two breathtakingly high summits that serve as remarkable vantage points. Down below lies Oued Nfis flowing through lush oak forests before reaching several charming villages, including one dedicated to Ibn Toumert, who founded the Tin Mal/Almohad dynasty. So explore this fascinating place!
Approaching & Exploring Tichka
Different approaches can be taken to reach the mountains from both north and south. Imi n'Tanoute, Timesgadiouine, and Argana are on the main Marrakesh to Agadir bus routes (north and west). At the same time, Taroudant–Ouled Berhil (south) or Tizi n'Test road (East) offer access from the south. Taxis or rides on trucks heading for mines and markets at trailheads could be used to reach mountain areas from the north and west approaches; smaller pick-up trucks (camionettes) travel daily to Imoulas, Medlawa Valley, and Tigouga from southern approach points. To take eastern access by Oued Nfis, follow the piste down from Tizi n' Test and head up along the river's south bank.
Toubkal Massif
The Toubkal Massif, which encloses the High Atlas's highest peaks, is almost everyone's target destination when trekking in Morocco. You can reach trailhead villages from Marrakesh in just two hours, and the main walking routes are easy to follow. A short walk from Imlil – the most common starting point – transports you to a different world of mountain villages with Berber houses stacked on top of each other, seemingly organically growing out of rocks. The local population is also immediately distinct from their city counterparts; even when working in fields, women dress brilliantly.
You can summit the highest peak in North Africa, Jebel Toubkal (4167m), in three days if you need more time. Although there is some risk of altitude sickness, it's doable. If you don't feel up to climbing Toubkal, you can still explore the lesser-visited mountain valleys accessible from Imlil or Aroumd and get a taste of mountain life.
Aroumd Village
Perched atop an awe-inspiring moraine spur in the Mizane Valley, Aroumd stands as a shining beacon of industry and hope. Topped by terraced fields overflowing with potatoes, onions, barley, and various fruits that sparkle in shades of purple iris, this village serves as both a peaceful refuge for travelers looking to rest their heads overnight or trek through its verdant valleys while basking in the beauty it holds within. Offering comfortable gîtes equipped with all the necessary amenities along one's journey, they provide solace before venturing further on your quest for discovery!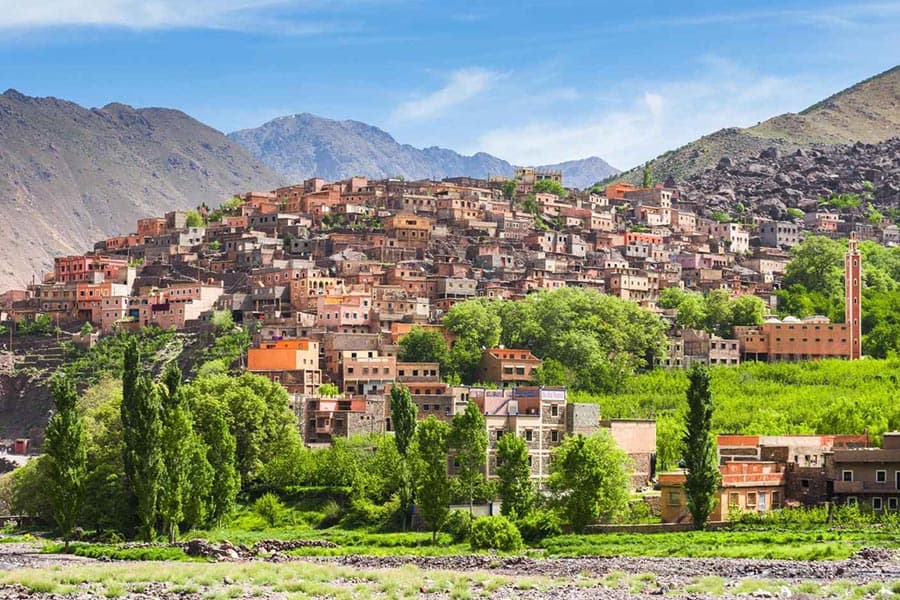 Climbing Jbel Toubkal 
Most trekkers who visit Imlil are on their way to ascend Jebel Toubkal. Even though it's just a walk (rather than a climb) after the snow has cleared, it's still a serious undertaking. However, the route to the ascent trailhead is reasonably straightforward and can be enjoyable in its own right. It follows the Mizane Valley to the village of Aroumd, a great starting point for an adventure to the Sidi Chamarouch pilgrimage site. The journey will take you through some stunning scenery, and you'll get a real sense of achievement when you reach the top.
Trekkers typically arrive at the refuges early to mid-morning so they can stay the night. That way, you'll have a fresh start at first light for the ascent of Toubkal the following day. The views from the peak will be most evident in the morning before the afternoon clouds roll in. Arriving at the Toubkal refuge early in the day also gives you time to acclimatize to the altitude and rest. Many people find that the last hour before arriving at the refuge is the hardest part of the trek, so it's important to take it easy.
Hiking to the summit
You're almost guaranteed to meet people who have just come down from the mountain if you stay at the Toubkal refuges—take advantage of this by talking to them and the refuge guards. They can give you firsthand, up-to-date information about the routes and conditions of the South Cirque (Ikhibi Sud) trail to the summit. If you're not confident about going alone, consider hiring a guide from the refuge. But don't let them rush you up the mountain—it's best to take your time so your body can slowly adjust to the altitude changes.
Toubkal's South Cirque (Ikhibi Sud) provides the summit's most popular and straightforward ascent. Depending on your fitness, it should take 3 to 4 hours to reach the top (2–2hr 30min coming down). There's a beaten path that is easy to follow. However, more of an issue is finding the right trail down through the upper slopes of unstable scree. Be sure to take your time coming down, as it can be tough on your joints.
The thrill of a lifetime awaits you at the top of Mount Toubkal Refuge, beckoning your descent to wade across the bubbling stream. Once past that challenge lies another – an ascent through rugged fields packed with boulders and stones. It's a challenging feat for inexperienced adventurers. Still, those who persevere will be rewarded with unparalleled views from its summit plateau adorned with a tripod marker! In winter, however, this relatively simple path can become treacherous, so proper preparation is critical; make sure to bring ice axes and crampons if icy conditions are expected, as any slips could result in tragedy. For experienced hikers or ski-goers, it remains one of Morocco's most incredible routes – set off early after checking out the start point beforehand for maximum enjoyment!
An alternative but longer (4hr 30min) route to the summit is the North Cirque (Ikhibi Nord). As you traverse the terrain, a reminder of past events lies in the wreckage of an aircraft that had been shipping weapons to Biafra. Tibherine towers over its surroundings with impressive height and is crowned by just one engine belonging to this plane. Reaching your destination at the summit will take some tenacity; however, it's worth every effort. You should seek refuge through the South Cirque valley below when returning down again.
The Grand Toubkal Circuit
The Grand Toubkal Loop is a gratifying and picturesque addition to the excursion up Toubkal. Starting from the refuges, you wander southwards towards scenic Lac d'Ifni, then northbound to Azib Likemt and Tacheddirt before returning to Imlil; it should take four or five days of walking at an effortless pace for most people who remain fit. Ensure that your supplies consist of plenty of water plus foodstuff enough for two or three days since there are only sustenance spots past Ifni Lake. This journey can ideally be taken between June through mid-October as during wintertime. Both passes (Tizi n'Ouanoums 3600m & Tizi Likemt 3500m) may become blocked by heavy snowfall, so those with profound mountaineering experience and appropriate gear such as crampons, ropes, ice axes (and satellite phone) might still dare this trek without too much difficulty!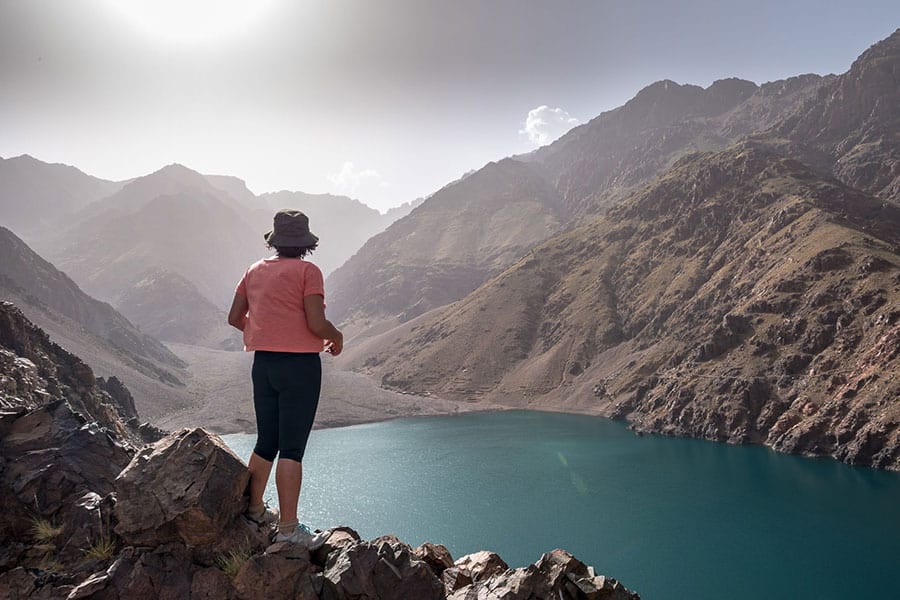 Imlil Village
IMLIL is a great starting point for anyone wanting to hike up Toubkal. The valley of Oued Rhirhaia is beautiful, and the villages along the way are definitely worth stopping at. The best view of Toubkal is halfway up the valley at a roadside café. Once you reach Imlil, you'll notice the air is much different than down in the valleys – it's silent and rarefied. There are paths leading off in all directions, making this region perfect for exploring on foot.
Imlil is a small town located along a major road. It has plenty of shops, guesthouses, and hotels. It's an excellent place to get supplies, hire a guide, or spend the night if you're new to the area. However, many more appealing villages are nearby, so you only need to spend a day in Imlil.
If you're looking to start early on your ascent of Toubkal, Imlil village is the better trailhead than Asni. From Imlil, it's possible to reach the base camp in one day.
Trekking in the National Park of Toubkal 
The stunning valleys of Asni, Imlil (in the Mizane Valley), Tacheddirt (Imenane Valley), and Tizi Oussem/Ouirgane (Azzadene Valley) offer wonderful walks which would be perfect for acclimating before attempting higher peaks like Toubkal. They are all much easier if tackled going downhill.
From late spring to late autumn, the region's trails are accessible for any reasonably fit walker. Mule tracks that allow one to navigate around the mountain valleys are well-contoured and usually in excellent condition. Additionally, there is a network of village gîtes, houses, and CAF refuges (small huts) for accommodation. This generally makes camping unnecessary unless you're hiking far away from the villages.
Ourika Valley
The Ourika Valley, a haven from the hot Marrakesh summer climate, is an ideal weekend getaway for young locals. Motorbikes and BMWs zoom up to Setti Fatma; picnickers bask beside clear streams flanked by waterfalls. The village marks the end of one road. Still, it also leads on – with its piste (to Timichi) followed by a mule track that passes through Tacheddirt and Oukaïmeden, boosting Morocco's finest skiing and ancient rock carvings! It's even become an excellent starting/finishing point for those trekking onto Imlil or further toward Toubkal.
Setti Fadma
Setti Fadma is a serene riverside village, substantially rebuilt and expanded after its 1995 devastation by floods. The terraces are luscious with grass, and the High Atlas peaks rise to over 3600m- making it feel like a dreamscape. Six (at times, seven) waterfalls flow majestically down in the rocky foothills above the village.
The Ourika Valley cleaves its way through the High Atlas, whose towering peaks begin to loom as soon as you depart from Marrakesh. At Setti Fadma, these mountains offer a majestic backdrop that includes the southwest Toubkal – an area ideal for trekking and mountaineering. Usually, adventurers set out on their journey from Asni; nevertheless, it is possible to start at either Setti Fatma or Oukaïmeden too!
Setti Fadma Moussem
The Setti Fadma Moussem is one of Morocco's three most important festivals. It takes place over four days in the middle of August, centered around the Koubba of Setti Fatma. Non-Muslims are not allowed inside the Koubba, but the festival is worth attending if you can be in Morocco during that time. There's a great market with lots of different stalls, and it's an excellent opportunity to experience Moroccan culture and see some fantastic traditional dancing and music.
The High Atlas Mountains weather and affected roads
The High Atlas mountains are gorgeous and exceptionally breathtaking when covered in snow. Unfortunately, this time of year also happens when the passes through the mountains are most likely to be closed due to weather conditions. Suppose you're planning on traveling to southern regions from Marrakesh. In that case, the best route is the Tizi Maachou pass (the N8, along with the newly finished A7 toll highway towards Agadir), followed by the N10 through Taroudant and Taliouine. This route is almost guaranteed to be clear and open for travel, so it's recommended for those still determining which path to take.
As winter transitions to spring, the thaw can present obstacles. When the snow melts in this season of growth and renewal, swollen rivers pose a hazardous risk for crossing. In addition, we must be mindful of the possibility of sudden and violent flash floods during the warmer months – these are dangerous situations! As a safety tip, picking out camping spots on higher ground, away from any waterway where deluges might form, is essential. Even when streams seem completely dry throughout the summertime, they should still be avoided as potential sources of torrential flooding also exist.