With its bustling city center, Tangier has long been a popular destination for artists, writers, rock stars, and intellectuals. The city is just 20 miles from Spain across the Strait of Gibraltar – one of Morocco's most accessible destinations.
The African roots of Tangier are influenced by Spanish, Portuguese, and French cultures. This multicultural city is home to the Sidi Bou Abid Mosque, landmark beaches, beautiful Medinas and alleyways. This makes Tangier an ideal destination for travelers of all ages.
Looking for a place to enjoy the surf, sea, and sun? Look no further than Tangier! This city has been a favorite destination of many famous visitors over the years, including Paul Bowles, William S. Burroughs, and Henri Matisse. You're sure to have a memorable stay here!
5 reasons to persuade you to visit Tangier
The Medina & its Kasbah
The Medina of Tangier is a beautiful, whitewashed stretch of shops and stalls that radiates from the Grand Socco. This impressive square is perfect for people watching and strolling on the Kasbah's 17th-century fortified ramparts. You can also take a closer look at the region's history by visiting the Kasbah Museum, which houses the Musée des Arts Marocains et des Antiquités. Another option is to visit the Tangier American Legation Museum, located off Rue du Portugal.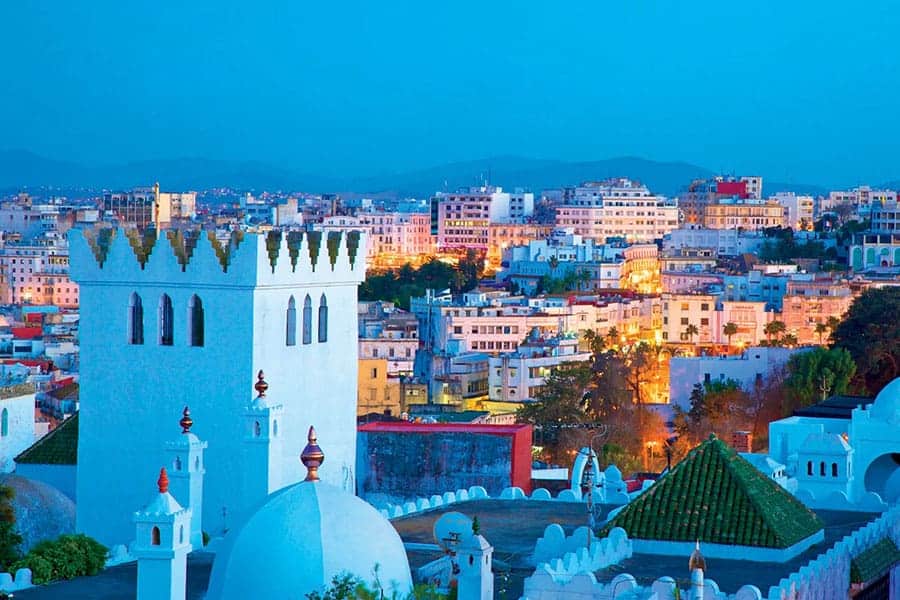 Cap Spartel
Cape Spartel, also known as Cap Spartel, is located on the northern Atlantic coast of Morocco, approximately 14 kilometers west of Tangier. This prominent landmark was constructed in 1864 by Sultan Muhammad III and stands at an elevation of roughly 1,000 feet above sea level. Its strategic position marks the entrance to the Strait of Gibraltar. As a result, it offers breathtaking views spanning the Mediterranean Sea and Atlantic Ocean waters.
The Cape's lighthouse is a popular attraction for visitors who can ascend it to capture stunning photographs from its vantage point. Despite being commonly referred to as Africa's northernmost location, this title belongs to Tunisia's Ras ben Sakka.
Beneath Cape Spartel lies another fascinating destination – The Caves of Hercules, which are accessible via Robinson Plage beachfront area nearby. Visitors have ample opportunities here for bird watching and exploring these legendary caves while taking in the panoramic vistas surrounding them.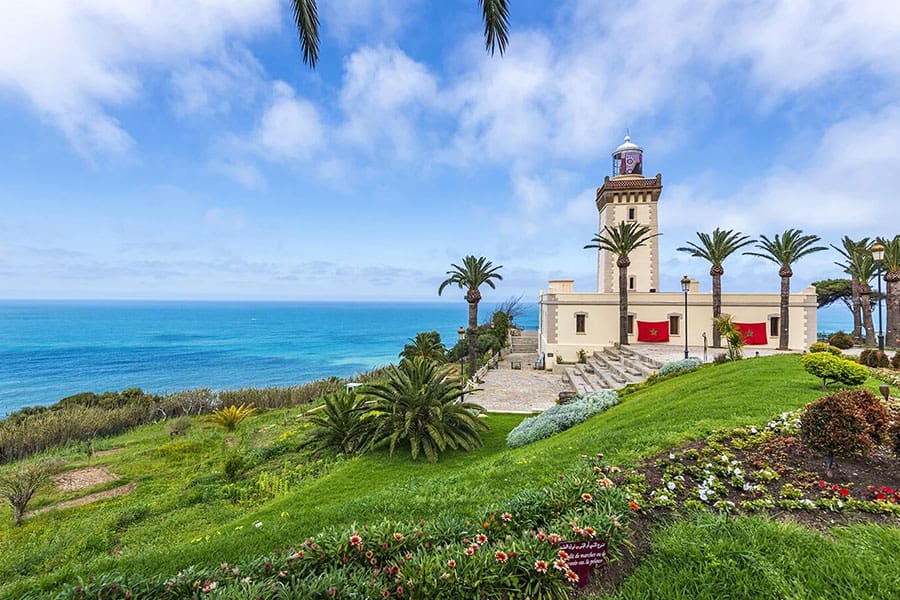 The Mendoubia Gardens & Palais Mendoub
The magnificent Palais Mendoub was once the home of Malcolm Forbes. The American billionaire hosted incredible parties that were reminiscent of the famously decadent gatherings thrown by Woolworth's heiress Barbara Hutton which put Tangier on the map for jet-setters. Across the road, locals meet to walk, talk, and play football in charming Mendoubia Gardens.
Tangier famous Cafes
If you remember the times of writer and composer Paul Bowles, rock stars, and artists who congregated in Tangier's many cafes, you'll want to sip mint tea on the terraces at Café Hafa (Avenue Hadj Mohamed Tazi) and gaze over the Strait of Gibraltar. You can also visit Cafe Baba (1 Rue Sidi-Hosni), where a picture of Keith Richards is still hanging on the wall.
Shopping in the Souks
Tangier is a shoppers' paradise, boasting some of the best arts and crafts in the souks (markets). Here you can find brass, ceramics, leather goods, jewelry, and carpets. Bargaining is both expected and welcomed in Morocco, so be sure to haggle for the best price!
Best things to do in Tangier
The vibrant heart of Tangier: The Medina
Tangier's alluring, eccentric history has been revitalized with a stunning influx of modern infrastructure. High-speed rail links, chic boutique accommodations, and the $650 million refurbishment to its port and marina have replaced decades of disrepair. But this 21st century progress hasn't suppressed the unique spirit that's filled Kasbah for centuries – within these 15th Century fortified walls lies an enchanting labyrinthine Medina alive with fragrant aromas from mint tea & spices as well as haggling traders selling every conceivable item; ceramic crafts, fruit stalls, flowers galore plus silks & slippers alongside stuffed camel spleen sandwiches!
Hercules Caves
According to legend, the renowned caves just outside Tangier were the site of Hercules' magnificent feat – he used his legendary might to break through a mountain and thus create the Straits of Gibraltar for him to complete one of his twelve great labors. This stunning place has been inhabited since ancient times; it was even reputedly an alluring bordello before tourism started taking hold. Partially formed by nature and partially crafted by humans, these caverns are famed for their sea window,' which is remarkably fashioned into Africa's shape. The thousands of circular indentations stippling across walls & ceilings have come from long-standing quarrying operations, or they could be attributed as remnants left behind where Hercules had scratched with his hands!
Tangier beach
Surf's up in Tangier! With its wide bay and gentle Mediterranean waters, the Municipal Beach is perfect for a day of fun in the sun. Top it off with beach clubs, discos, cafes, and water sports, and you've got yourself a world-class beach destination.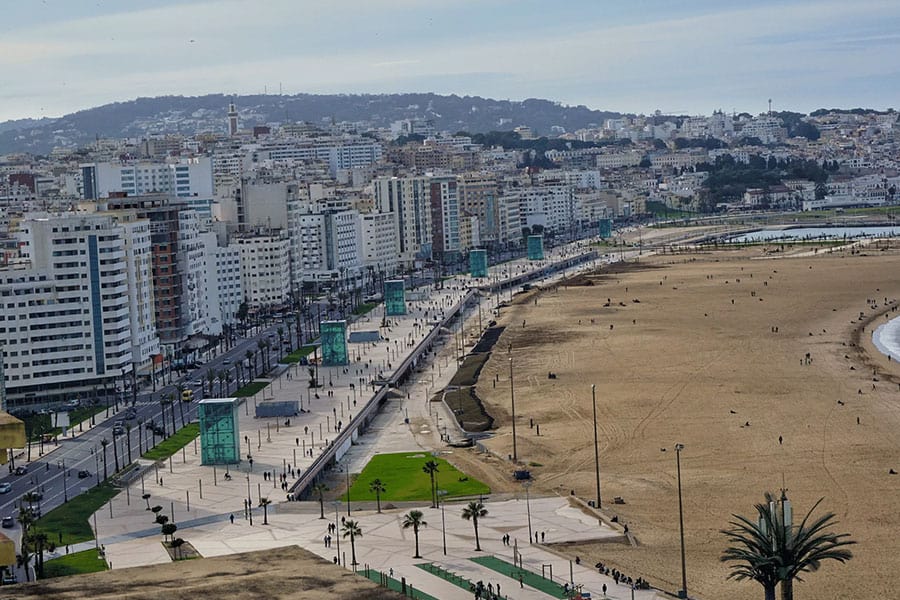 Musee de la Kasbah
Relics from as far back as the Stone Age, which illustrate Tangier's fascinating multicultural history, are housed at the Museum of Moroccan Arts and Antiquities, commonly referred to as the Kasbah Museum. Located in a former sultan's palace just outside the Medina, highlights include a beautiful mosaic of Venus from the Roman city of Volubilis, ancient Phoenician trade route maps, and the quiet respite of a stroll through Sultan's Garden with its orange trees, flowers, and ceramic pottery.
Where to eat in Tangier?
Are you looking for a unique and exotic dining experience? Try Moroccan cuisine at Le Nabab or El Morocco Club. For an exceptional meal, order M'choui (whole roasted lamb) a day in advance and enjoy spectacular views of the Strait of Gibraltar at the city's most opulent restaurant, El Korsan. Chez Abdou serves delicious seafood, while Le Fabrique offers stylish French cooking with an Asian twist. Expect to pay DH150 for a basic meal or DH500 for dinner in a good restaurant.
When is the best season to visit Tangier?
The best time to visit Tangier is in the late spring or early fall when the weather is pleasant and the crowds are thinner. However, June to August is peak season. Although all the attractions are open, the city can be very busy with tourists from Spain. If you're visiting in winter, make sure to bring warm clothing, as it can get chilly from December to February.
How to get to Tangier?
By plane
The Tangier Ibn Battouta Airport (TNG) is just 7.5 miles from the city. The best way to get into the city is by taxi, which will cost you DH100 during the day and DH150 at night. However, if you're on a budget, you can walk to the main road (one mile) and take a local bus (7 or 17) to the Grand Socco.
By train
Trains from Marrakesh and Fez come to Tanger Ville rail station daily, making it easy for travelers to reach the city center. In addition, a quick ride in a petit taxi would cost just 40 dirhams – an affordable option worth considering!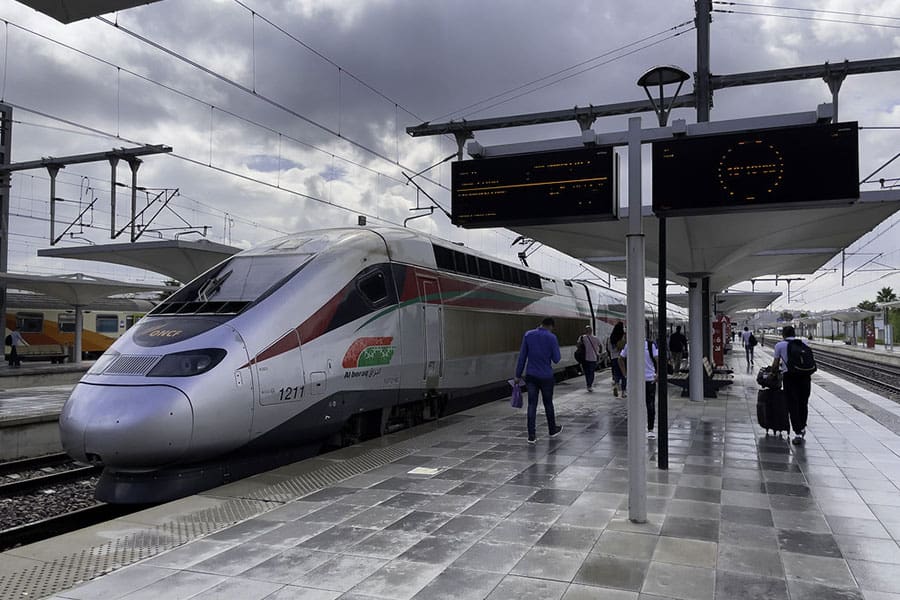 By car
If you're driving from Spain, take the ferry to Tarifa or Algeciras and then to Tangier or Tanger-Med. The journey is quick and hassle-free, plus it's a great way to see some fantastic scenery. And, of course, there's the added bonus of being able to bring your car with you! Remember that you can only do this for a maximum of six months each year, so check with your rental company before making any plans. You'll also need 'green card' insurance to drive in Morocco, which can easily be obtained at the port.
By bus
Eurolines provide constant connections to Tangier. For example, a voyage from Malaga costs DH796 and incorporates the ferry trip across. Eurolines coaches conclude at Gare Routière de Tanger on Avenue Idriss, where small and large taxis can be found for moving further into city areas. Buses originating in other Moroccan cities, such as Chefchaouen or Rabat, arrive either at the CTM bus terminal near the port or end up directly at Place Jamia Al Arabia station.
Where to stay in Tangier
The Medina
The ancient Medina and the 17th-century Kasbah can be found on the hillside above the port. To get there, walk down Rue es-Siaghin from Grand Socco to Petit Socco. You'll pass dozens of shops selling arts and crafts along the way.
La Ville nouvelle
The new town is located south of the port and the Old Medina. The district is centered around Place de France and Boulevard Pasteur, which boast many stores, restaurants, and cafes. Highlights include St. Andrew's Church on Rue d'Angleterre.
Marshan
This central neighborhood is bordered by Avenue Hadj Mohamed Tazi and Avenue Sidi Bou Arraqia. The Marshan hotels are close to the Palais Marshan, Grand Mosque of Tangier, and Kasbah Museum.