Chefchaouen (commonly shortened as "Chaouen") welcomes you to one of Morocco's most relaxed and laid-back cities. This modest mountain village, which has long been popular with backpackers, is now indeed coming into its own as a vacation destination. Chaouen is far enough off the usual path to deter most tourists, leaving it peaceful enough for those daring to travel to the Rif Mountains' edge.
The small, Chaouen-blue pedestrian lanes give way to spacious squares with panoramic views of the beautiful valley below. After the bustling Medinas of Fez and Marrakech, Chaouen provides a welcome break of calm. It does, however, include enough of what is authentically Moroccan to appeal to those seeking a more authentic experience.
Day treks into the mountains are reasonably accessible for nature enthusiasts. Shoppers will appreciate the hassle-free boutique stores that sell anything from hand-spun ceramics to handmade soaps created in the city. Whether you spend a couple of days roaming the spotless Medina streets, taking a trip into the Rif Mountains, or simply relaxing with a book and a cup of fresh mint tea, like most tourists to Chefchaouen, you will come away with a fantastic experience.
CHEFCHAOUEN HISTORY IN A NUTSHELL 
Take notice of Chefchaouen's location between two enormous mountain peaks as you arrive. This is where the name Chefchaouen comes from. Chef comes from the Arabic verb "to look" and "Chaouen," which means "antlers" or "horns." Chefchaouen has traditionally been a strategic mountain hamlet, nestled between the two protecting horns of the rising Rif Mountains. It has a long and illustrious history dates back to the Portuguese invasion of Morocco in 1471 AD. Abu Youma, a local tribal chief, required a safe, covert place to launch attacks on the Portuguese. Abu Youma perished in one of the conflicts, and his cousin, Ali Ben Rachid, became the new city's keeper. Ali Ben Rachid began relocating his family and acquaintances from Granada (modern-day Spain) to Chaouen around the end of the 15th century. By the middle of the 16th century, a well-known path for persons fleeing the Spanish Inquisition had been developed. The city's population grew significantly as a result of the new immigration. As in bigger cities like Fez and Marrakech, the exiles took their expertise in art and architecture with them. All of this had an impact on the city's appearance. The distinctive bright blue, traditionally associated with the historic town of Chefchaouen, was not employed until the Sultan ordered the erection of the Mellah (Jewish district) in 1760 AD.
BEST THINGS TO DO IN CHEFCHAOUEN
Take a stroll in the Medina. 
Chefchaouen is one of Morocco's most exciting and unique Medinas. Though trudging up and down the mountain might leave you with aching legs at the end of the day, there are many cafés where you can rest and refuel. Foreigners haven't been able to buy ancient buildings and convert them to posh riads as they did in Marrakech's Medina or the Kasbahs of Tangier and Rabat, so many locals still reside in the Medina. The residents of Chefchaouen are generally friendly, and Western visitors may wander around the Medina's blue walls without being bothered by touts and vendors. The majority of shopkeepers have a laid-back attitude and will not bother you. Children play on the streets, and unlike in Fez, they rarely solicit money. Chefchaouen's youngsters may approach you and invite you to play with them, which is a pleasant way to spend an afternoon. Look at some of the signs that provide information about the city's long and tumultuous history while you're out and about.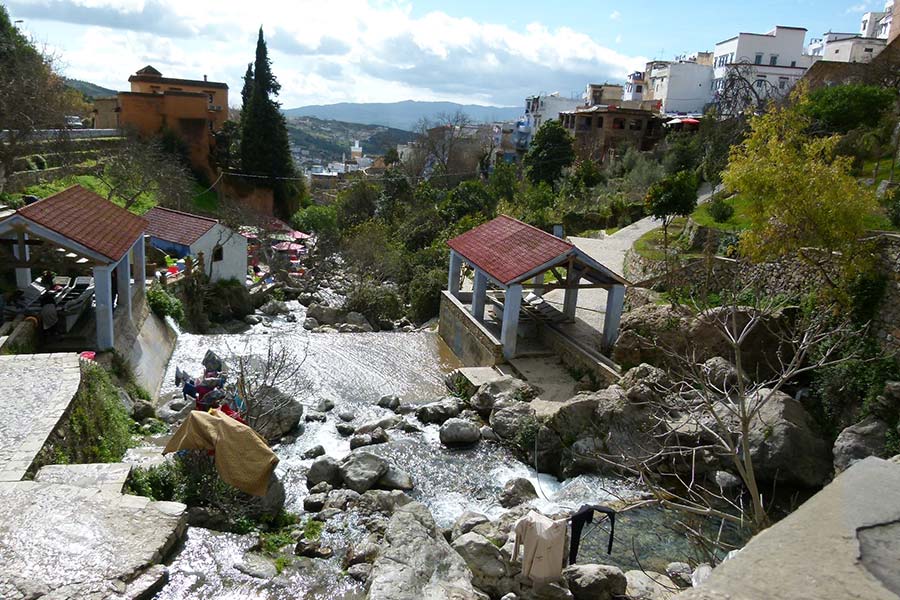 Ras el-Maa 
(or "Head of the Water") is a modest (and slightly overestimated by guidebooks) waterfall located beyond the Medina walls to the east. During the warmer months, many locals go here to cool down and, in some cases, wash laundry. There is a tiny café nearby where you can unwind with a cup of coffee or tea, which is especially lovely during the hot summer months.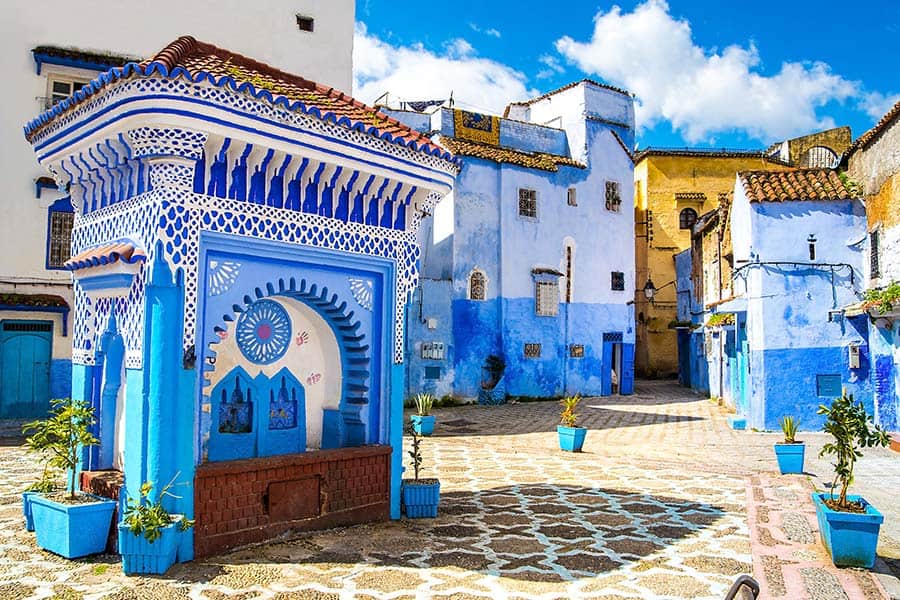 Place Uta el-Hammam
Located off the main square, it has two Hammams worth visiting for anyone searching for an authentic Moroccan experience in cleanliness. The public Hammam, which many local men and women use, is located adjacent to the Pension Castellana, directly across the plaza from the big mosque Jama'a Kabir. Men and women are given different times, which alter regularly. Chefchaouen, like many other Moroccan cities, used to have Hammams for both men and women. Many Hammams now share space and offer distinct bathing hours for men and women. You should budget around 25 dirhams, but remember to carry plastic sandals, soap, a shower scrub, and a towel. For a more rich experience, visit the Art du Bien-être (Art of Good Living), located behind the mosque one block west of the Place Uta el-Hammam. This is a more upmarket "spa" offering massages, foot soaks, facials, and exfoliations. However, it is not typical. This company works with a local women's cooperative to make all of its all-natural items. Many of them are available for purchase in the entranceway. For the Hammam, you must make a reservation. They can, however, usually accommodate same-day requests. A facial should cost around 100 DHS. A Hammam costs 150 DHS. A more "complete spa" session will set you back 250 DHS or more.
Chefchaouen souvenir shopping 
The Hat Man is one of our favorite places to shop. This eccentric business is on the major road, Rue Targui, towards the top of the Medina, on your walk upward from the main square. Hand-knitted hats come in various styles, sizes, and levels of lunacy. The words "Hat Man" are written on a sign. It's impossible to miss. Stop visiting El Jabon Arte Con La Abuela (Soap Art with Grandma) on Zanka Targhi, only a few steps up from the central Place Uta el-Hammam, for some fantastic spices and handcrafted soaps. Fresh cumin, aromatic saffron, and other Moroccan spices are available, as well as soaps in wonderful combinations like chocolate, thyme, and lemon.
Dar Salam on Rue Taylia features a large assortment of hand-carved Moroccan furniture, hand-spun, and woven wool carpets from across the nation. Hassan, the proprietor, will be delighted to explain the hefty Berber jewelry, the several tribes that still make carpets, and other aspects of Moroccan history and culture. There are no hard-sell tactics used here. Just some pleasant chit-chat and a cup of tea if you want it.
CHEFCHAOUEN TREKKING AND HIKING
Chefchaouen is excellent for anyone wishing to get out and enjoy the outdoors since it is located at the foot of the Rif Mountains, surrounded by magnificent woods and bubbling rivers. There's a decent mix of accessible routes and more challenging courses, so there's something for everyone's fitness level. Here are several short hikes to think about:
Observation Point
Suppose you depart the Medina and climb upwards toward the Hotel Atlas (one of the city's tallest buildings, it's hard to miss). In that case, you'll find an easily accessed route that leads to a stunning lookout point with views of Chefchaouen and the surrounding mountains. You can continue hiking farther into the mountains if you like, but remember to bring a water bottle and a snack.
Targa 
Visit neighboring Targa for another short climb out of the Medina. This medieval castle and mosque, located on a hill immediately south of the Medina, originates from the 1200s. The Spanish rebuilt the minaret. Unfortunately, even though the complete mosque has been renovated, it is still not publicly available for prayer. Nevertheless, visitors are welcome to climb the minaret and take in the views of Chefchaouen and the valley below. A picnic on the adjacent terrace is a terrific idea.
WHERE TO EAT IN CHEFCHAOUEN?
Jasmine Café Teteria 
This vibrant café, which opened in the summer of 2017, serves an inventive mix of international and Moroccan cuisine, including popular favorites like spring rolls, vegetable pizza, and ramen noodles. Don't miss out on the chicken and cheese Briouats, created from scratch using the owner's Mum special recipe.
Casa Hassan 
Visit for the panoramic terrace views, but stay for some of Chaouen's best tajines! Tajines are cooked over an open fire, giving them a smokiness that complements the saffron-rubbed chicken and lemony goodness. The veggie Pastilla, a phyllo pastry loaded with finely chopped veggies and spices, will delight vegetarians. Reservations are advised for lunch and supper on weekdays.
Casa Aladdin 
With spectacular views over the Place Uta el-Hammam and shabby chic blue and orange décor, this is an authentic house of Aladdin. Vegetarians will be delighted to learn that a veggie Pastilla is available upon request, with delectable layers of peppers, tomatoes, and other vegetables neatly wrapped in crispy phyllo dough. Anchovies tajine, a northern specialty, is a delicious lunch or supper option. Open every day for lunch and dinner; reservations are advised.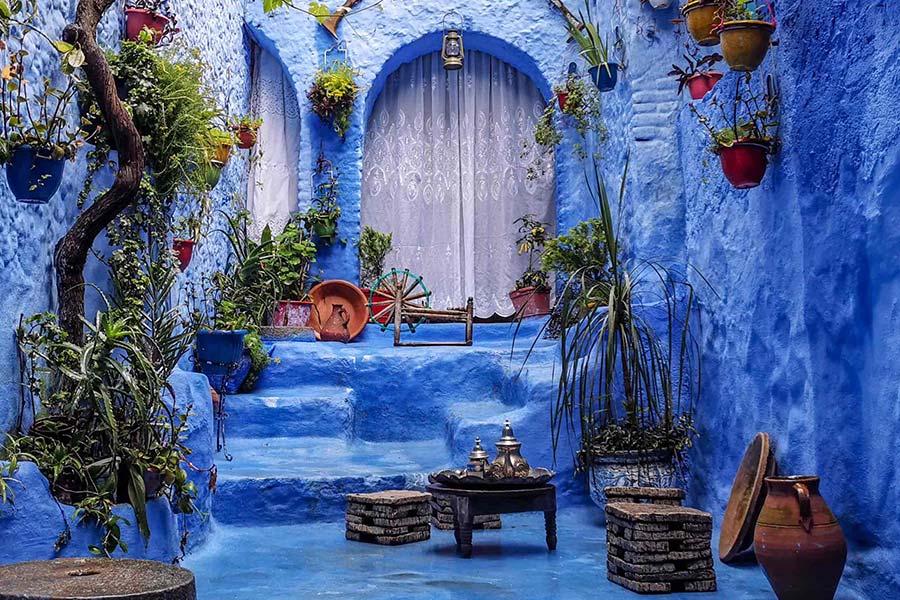 Lalla Mesouada
Said Bakkali's hidden jewel amid the higher slopes of the Chefchaouen medina, Lala Mesouda, maybe the best place in Chefchaouen for authentic Moroccan food. Aside from the superbly made tajines and a Friday couscous, which are standard fare in every Moroccan restaurant, the cooks at Lala Mesouda go further into traditional Moroccan home cooking. Salads like Baqula (a cooked spinach-like green) and Chardon (cardoon cooked in olive oil) are among them, as are Sfarjel (quince with beef) and ox penis, which are gradually cooked for the more daring eaters.
Populaire Restaurant 
Do you need a quick bite to eat? This regionally famous sandwich shop serves you a delectable Bocadillo. The "Tangier," a savory slow-cooked strip of soft beef seasoned with garlic, onion, and cumin and coated in a sharp yogurt sauce, is virtually always on the menu. Vegetarians can load their baguette sandwiches with sautéed mushroom caps.