The mesmerizing Dades Gorge and the spectacular winding road are one of the absolute highlights of a tour through Morocco. Whether by car or motorcycle, a drive through this canyon is an exceptional experience and genuinely adventurous. Visitors are thrilled by the color contrasts and the incredible scenic beauty. But the most spectacular section of the route is the breathtaking Zig-Zag road, almost at the canyon's end. However, visitors also come from all over the world to hike and trek for its picturesque landscapes.
This Dades Valley travel guide will show you all the fantastic things to see and do in the stunning Dades Gorge in Morocco. We've got beautiful photos and handy tips on where to stay, where to eat, and how to make the most of your trip!
Dades Gorges general information
The Dades Valley in Morocco, nestled within the beautiful province of Thinghir and embraced by the majestic Atlas Mountains, boasts a variety of wonders. The Gorges du Dadès are captivating, stretching from Boumalne Dadès to M'semrir, with its verdant riverbed irrigating this prosperous valley filled with quaint villages. Many impressive clay castles- Kasbahs – constructed long ago by Berbers remain as fortifications against potential foes even today. This awe-inspiring region is sure to leave one breathless!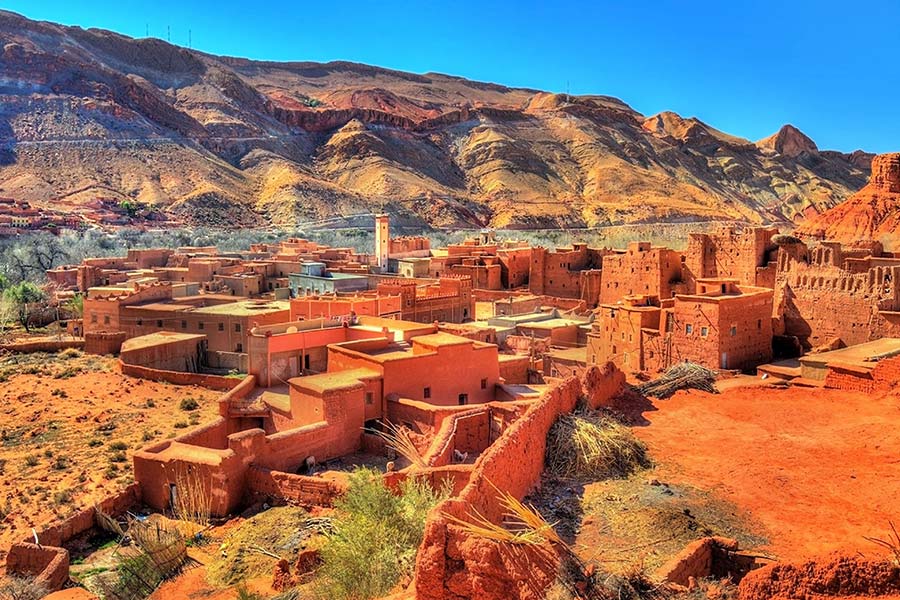 Driving through Dades Valley and Dades Gorges
The Dades Gorge is a spectacular site just a few kilometers from the town of Boumalne. It stretches for 45 kilometers, with gigantic rock formations and towering cliffs 200-500 meters high. In between, you'll find small villages and Kasbahs, which stand out because of their reddish colors. Driving through the Dades valley is an unforgettable experience, so allow some time to explore. Along the way, you'll pass pretty Berber villages with many beautiful viewpoints and interesting rock formations. Photographers will enjoy the dramatic contrast between red rocks, green oases, and palm groves.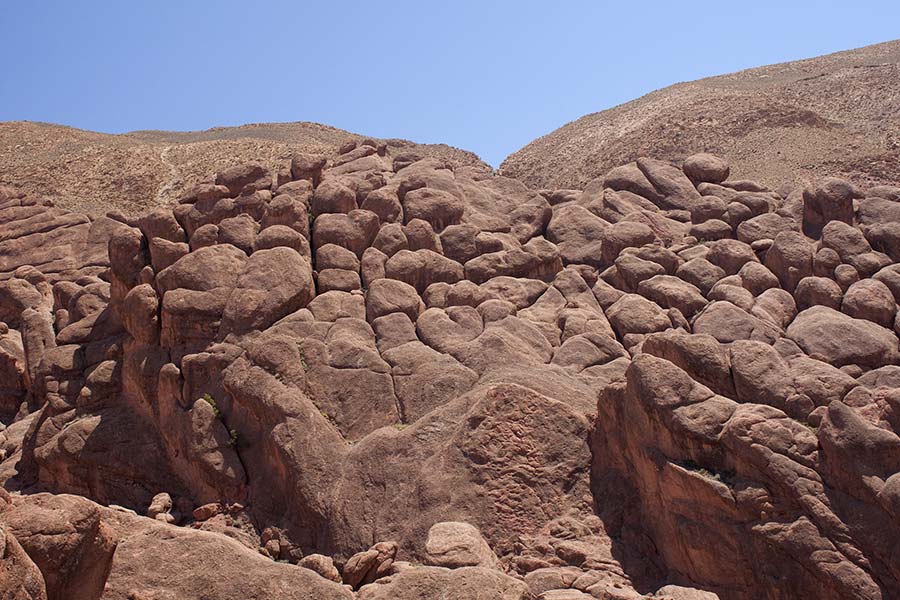 Monkey Fingers ( Les Pattes de Singe )
While driving through Dades Valley towards the Gorge, there are always fascinating places to stop. One is the Monkey Fingers viewpoint, located about 9 kilometers from Boumalne Dades. This impressive rock formation is on the drive into the Dades Gorge, next to the road on the right side. You can take great photos here. Also passed were a few gigantic and ancient Kasbahs. They are located just next to the Dades River, but only some can be visited. Anyway, the panorama of the Dades Valley is breathtaking too.
The winding road of Dades Gorge
As you journey to the end of the valley, an awe-inspiring spectacle awaits. Be prepared for a thrilling ride along Zig-Zag road as it winds its way up and around in serpentine fashion – providing exhilarating yet safe entertainment! As soon as you crest over one hairpin bend after another, be ready to take in breathtaking views across the ravines below and marvel at your incredible progress.
For those seeking ultimate refreshment with that perfect view from on high – head straight for Café-Restaurant Timzillite, where mint tea is served alongside panoramic vistas overlooking this winding masterpiece of a route!
Many visitors turn back at the viewpoint, which is a shame because the rest of the route is worth seeing. After you have driven the zigzag road, we recommend you continue driving for about 15 km. The landscape there is also stunning and worth seeing. Soon after the viewpoint, there is a spectacular and very narrow canyon you cross by car. After that, the landscape opens up into a beautiful mountain panorama.
Dades Gorge or Todgha Canyons?
Exploring Morocco is undoubtedly a treat for any traveler, and one can't help but wonder – which Gorge provides more awe-inspiring vistas? Of course, both the Dades Gorge and Todra Gorge are breathtaking in their own right. So, if you want to immerse yourself in Moroccan beauty, take some time to visit both sites! You won't regret it! The Dades Valley offers many winding roads, making it a great place to take photographs. The landscapes in the Gorge are theatrical, with red rock formations that are unlike anything else.
How to get to Dades Valley & Dades Gorge?
Venturing from Marrakech to the Dades Valley is an exciting journey of around 320 kilometers. To make your way there, you can rent a car and follow the N10 toward Tinghir; along this route lies El-Kelaa M'Gouna – home to the entrance of Rose Valley! When arriving at Boumalne du Dades, take road R407 into the captivating sights within Gorge de Dadès, which stands about 70 km away from Tinghir. Alternatively, if coming from Ouarzazate, it's only a 110 km drive till you reach these unforgettable landscapes that await ahead.
Where to stay in Dades Valley near the Gorge?
As you travel along the Dades Gorge, you'll find some amazing places to stay. Most of the accommodations are traditional riads or kasbahs. However, we've got some tips if you're looking for a great place to stay! These accommodations are worth checking out!
Riad Dar Bahammou:  Riad Dar Bahammou offers a terrace with panoramic views of the mountains and valleys. This traditional Berber mansion is decorated in Moroccan style and features a Moroccan lounge.
Hotel Babylon:  The stunning Hotel Babylon is situated atop a hill at 1600-metres altitude, offering breathtaking views of the Dades Gorges. Just 11 km from Boumalne Dades, this traditional Moroccan hotel provides the perfect night's stay near Dades Gorge.
Riad Rihana Dades:  An excellent location with a beautiful view. Riad Rihana Dades is an ideal starting point for a hike to the monkey fingers.