For many, Casablanca (commonly referred to as "Casa" by locals and translating to "White House" in Spanish) has been a symbol of romance ingrained within the Western psyche. This is largely due to associations with stories like Marrakesh Express and the iconic film bearing its name. However, this bustling Moroccan metropolis offers an experience that diverges from these romanticized notions significantly.
Casablanca may not perfectly embody the romantic and adventurous notions we often attribute to it, but that doesn't mean you should dismiss this bustling metropolis. Admittedly, the city could benefit from a thorough cleaning as its constant traffic contributes to an ever-present layer of dirt that dulls its appearance. However, if one can look past Casablanca's somewhat dingy exterior, they'll discover some of Morocco's finest international cuisine and experience firsthand what modern Moroccan life is like for those who call this place home.
As Morocco's premier business center, Casablanca boasts a distinctly urban atmosphere with people continuously engaged in conversations on their mobile devices while stylish men don Armani suits and women executives sport Louis Vuitton bags en route to crucial meetings or power lunches. So why not give Casablanca a chance? You might just find yourself captivated by all it has to offer beneath the surface!
The majority of visitors to Morocco land at Mohamed V International Airport (CMN), approximately an hour's drive from the heart of Casablanca, depending on traffic conditions. Indeed, congestion can be quite challenging in this city; however, you can effortlessly bypass much of it by utilizing the train and environmentally-friendly tram system! The tram conveniently links with the airport-bound train at Casa Voyageurs and Gare Oasis stations while also making stops throughout Casablanca – such as Place Des Nations Unis (adjacent to both old Medina entrance and Art Deco downtown) or Aïn Diab Plage for those heading beachside. If necessary, feel free to hail one of many red petit taxis available but ensure that your destination name along with its street address is written down beforehand. Rest assured that well-known locations like Hassan II Mosque or Morocco Mall are easily recognized by drivers.
History of Casablanca
The earliest known habitation in the area now called Casablanca can be traced back to pre-Roman times in Morocco, where it was referred to as Anfa. Although no physical remnants have been found, several ancient documents mention this settlement. After the Romans were expelled from Morocco, a powerful local tribe named Borghwata took control until they succumbed to the Almoravid empire during the 11th century. Despite being part of various dynasties throughout history, Anfa regained its independence by becoming a sanctuary for pirates and slave traders around the 15th century.
This situation attracted Portugal's attention who decided not only to destroy but also conquer and rebuild their own city on top of what remained after leveling Anfa in 1468; subsequently renaming it Casa Branca – Portuguese for "White House," which is how modern-day Casablanca got its name.
In 1755, an earthquake devastated the city which was then reconstructed by Sultan Mohamed Ben Abdellah and named Dar al-Bayda meaning "White House" in Arabic. Despite its new name, it remained a small town until French colonialists arrived in 1906 and transformed it into an Art Deco paradise with planned boulevards and even a Moroccan Medina built by the French (now known as Quartier Habous). Today, Arabophones still refer to this beautiful city as Dar al-Bayda. Join us on our journey back through time to explore Casablanca's rich history!
Once a humble fishing village, Casablanca has blossomed into an international finance and industrial center. Nowadays over four million inhabitants from around the world consider this bustling city their home base for all modern conveniences: delectable restaurants, chic shopping centers and vibrant nightlife activities. While it may not have much in terms of architectural heritage to boast about, there are still some sights worth seeing when visiting Casablanca or its surrounding areas!
Discover Casablanca: Must-See Attractions
Hassan II Mosque
In Morocco, only a handful of mosques permit non-Muslims to enter. The Hassan II Mosque is one such exception (along with Tim Mal Mosque situated south of Ouirgane). Nestled along the Atlantic coast and approximately half an hour's walk from Casa Port train station (or accessible via a 15-20 dirham petit taxi ride), this awe-inspiring mosque soars up to 210 meters (around 700 feet) high. As one of the world's largest and most intricately designed mosques, it boasts exquisite Moroccan tile work known as zellij, intricate woodcarvings, and elaborate stucco designs adorning much its surface area. Be sure not to miss out on exploring its vast and beautifully adorned prayer hall!
When visiting the Hassan II Mosque, it is essential to dress respectfully. Men ought to wear trousers and shirts, avoiding shorts or sleeveless tops. Women are required to cover their heads, arms, and legs.
Guided tours can be enjoyed every day except Fridays and religious holidays. Priced at 120 dirhams (or 60 dirhams for students presenting valid IDs), tickets may be obtained directly from the mosque itself. Presently offered in French, Spanish English German as well Fus'ha (standard Arabic) languages
Tour Schedule: Saturdays through Thursdays; starting times include 9:00 am,10:00 am ,11:00 am and 2:00 pm. These hours might vary depending on prayer timings.
Museum of Moroccan Judaism
Tucked away in the suburban L'Oasis lies a unique gem – The Museum of Moroccan Judaism, one of only two Jewish museums in the entire Muslim world! This architectural wonder was recently refurbished to house artifacts from Morocco Jewish heritage like Torah scrolls, Chanukah lamps and kaftans. You'll also find photographs and carpets that trace back centuries-worth of history at this small yet remarkable museum. Most visitors manage to have an incredible time exploring within an hour or so. To get here easily catch a 20-25 dirham taxi ride from Hassan II mosque or if coming by train alight at Oasis station then take a petit taxi for just six dirhams onward! Don't miss out on such great opportunity while you're around.
Casablanca Beth El Jewish synagogue
This Beth El Synagogue, sometimes referred to as Bet El especially in Marrakesh where another synagogue is known by that name, stands tall and proud in Casablanca. It once reigned over the thirty other synagogues which dotted this cityscape. The sun's rays beam through its magnificent stained glass windows; an artwork inspired by Marc Chagall himself! This light reflects off a giant crystal chandelier at the center of the hall like tiny rainbows scattered throughout it all – illuminating ancient scrolls from Hebrew scriptures adorning each wall along with gilded quotes taken straight out of Torah.
What to do in Casablanca
As you start exploring activities in Casablanca, it might seem like the city has fewer attractions compared to other locations in Morocco. However, delve a little deeper and allow yourself to be pleasantly surprised by what Casablanca has in store!
Casablanca Art Deco Tour
Discover the rich historical legacy of Casablanca by exploring its Art Deco architecture, a testament to French colonialism. The downtown area is home to many such buildings in varying states of disrepair. However, for true enthusiasts of this style, Cinema Rialto on rue Mohammed Qorri should be at the top of your list as it offers an unparalleled experience. Take time out and explore other examples nearby like Catholic Cathedral or take a leisurely walk through the neighborhood soaking up all that Art Deco has to offer! To ensure you have an entertaining and informative exploration with our Morocco team during Casablanca shore excursion; make sure these sights are included in your itinerary – don't miss out on experiencing one-of-a-kind art deco structures firsthand!
Luxury Oriental Spa treatment
Craving some indulgence? Given the bustling, high-pressure corporate clients rushing about town, it's no surprise that Casablanca boasts a selection of premier luxury spas in the nation. Why not reserve an afternoon spa session at O-Spa within Kenzi Hotel? Experience soothing argan oil treatments and unwind with a calming Shiatsu massage.
Visit Morocco Mall
Just a few kilometres south of the majestic Hassan II Mosque lies an elaborate shopping centre, right on the Atlantic shores. Morocco Mall is Africa's largest mall and offers a unique combination of both local flair and big-brand names such as Fendi, Dolce & Gabbana or Louis Vuitton. There's even something for those who prefer more traditional Moroccan goods: An entire souk with all kinds of handmade items can be found upstairs! And if you feel like taking in some blockbuster movies during your stay — no worries; there's also an IMAX theatre available that screens films in English every Thursday night! Why not go ice skating afterwards followed by après-ski at Starbucks? Whether it's to shop luxury brands or just take a break from exploring other parts of Morocco – The Morocco Shopping Centre has got visitors covered either way!
Embrace the Beach Life
Just a short taxi ride south from Hassan II Mosque, you'll find Ain Diab and La Corniche, sought-after beachfront locations for sun-seekers craving sand between their toes. Thanks to Casablanca's prime location near the Atlantic Ocean and its southern latitude, perfect beach weather is practically guaranteed all year long. Locals love these spots as they can unwind in refreshing waters or engage in friendly soccer (football) matches on sandy shores. For more tranquil beaches, simply head further down south.Although dining options along this coastline tend to be mediocre and overpriced, if thirst or hunger strikes – one must make do with what's available!
Where to eat in Casablanca ?
If you're on the hunt for an exceptional dining experience in Casablanca, look no further than Best Restaurants in Morocco. This online resource offers the latest menu updates and essential information about eateries throughout the city. Don't waste another moment pondering where to eat – we've got some top recommendations right here! Check out these fantastic establishments that are sure to satisfy your cravings.
Rick's Cafe
Experience the iconic Rick's Cafe—abutting Casablanca's historic Medina walls and offering a faithful recreation of its cinematic namesake. Take in delightful cuisine, tantalizing cocktails, and soulful piano melodies for an unforgettable evening out among Morocco's finest offerings.
Reservations are highly recommended; call +212 (0)5 22 27 42 07 or email reservationsrickscafe@gmail.com to secure your spot!
Lunch is served from 12:00pm-3:00pm while dinner starts at 6:30 pm until 1 am – dress code applies so be sure you're dressed accordingly before coming by!
Don't forget to visit their souvenir shop on your way out; take home some memorabilia like tee shirts or coffee mugs that'll remind you of this romantic night forevermore!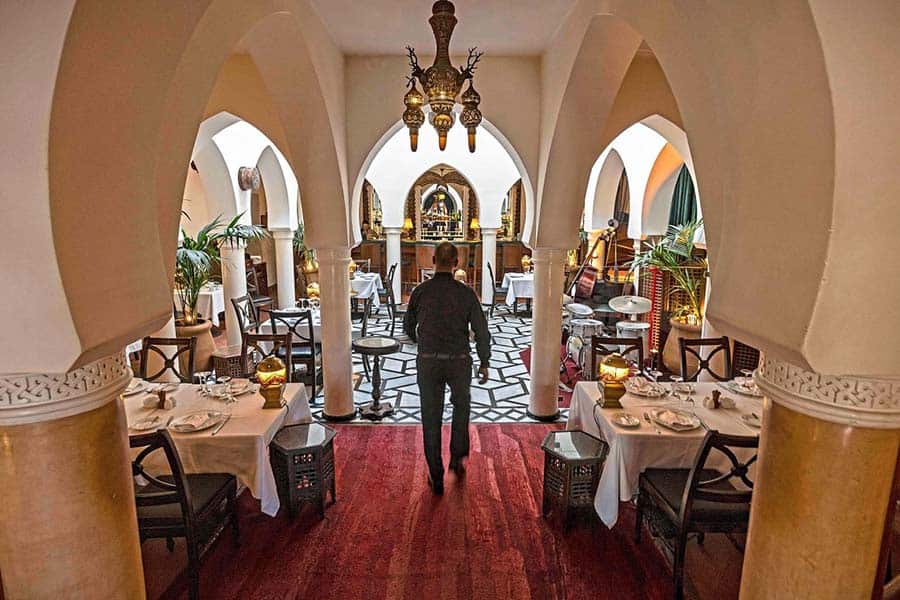 La Bavaroise: A Culinary Gem in Casablanca
Nestled within the heart of Casablanca, just behind the historic central market, La Bavaroise is an elegant and inviting high-end gastronomic restaurant. With its consistently exceptional food quality, this chic restaurant offers a unique French brasserie-inspired experience that may come as a delightful surprise to those on a Morocco tour.
Indulge in timeless classics from French cuisine such as beef tartare while exploring their impressive wine collection – one of the most extensive throughout all of Morocco. The wines are predominantly sourced from France but also include some fine Moroccan selections for your enjoyment.
If you're seeking an unforgettable five-star dining encounter, look no further than La Bavaroise at 133 Avenue Allal Ben Abdellah or call +212 (0)5 22 31 17 60 to make reservations which are highly recommended. They welcome guests Monday through Saturday for lunch and dinner services (except Saturdays when only dinner service is available).
Au Four Du Bois
Indulge in the delectable flavors of traditional Italian cuisine at Au Four au Bois, located conveniently in downtown Casablanca. This trattoria offers a refreshing change from the usual Moroccan fare and is known for its mouth-watering wood-fired pizzas. Make sure to reserve your table beforehand by calling +212 (0)5 22 22 17 18 or opt for delivery straight to your hotel room by dialing +212 (0)5 22 48 56 56! Don't miss out on this culinary delight during your stay in Casablanca!