When walking beneath Bab Boujeloud's famed blue gate, you feel as if you've been transported 1,000 years back in time. The lively cafés and outdoor markets give way to calm, narrow lanes where youngsters are hard at play and donkeys are hard at work transporting provisions up and down the old city's twisting mud brick passages.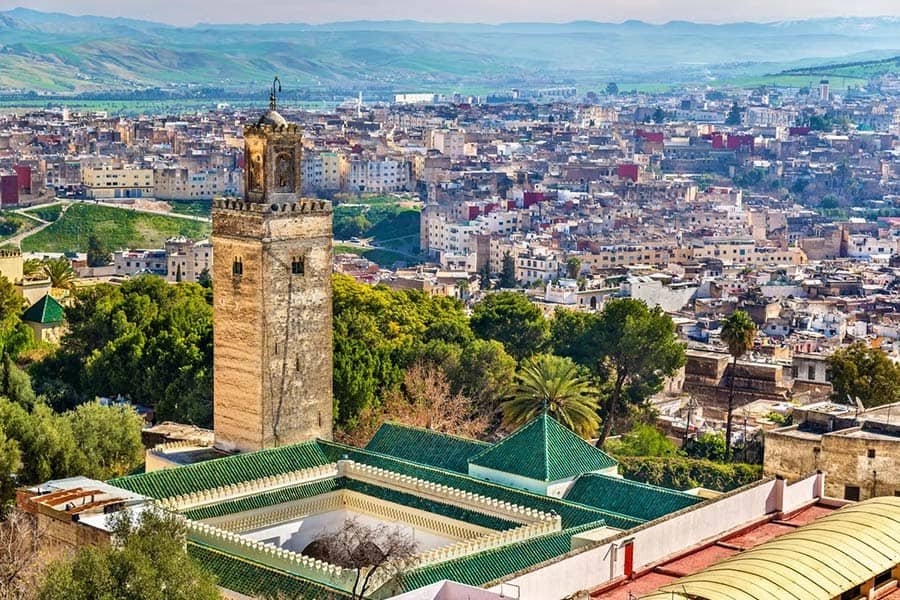 Fez el-Bali, the city's oldest section, is the world's most extensive car-free urban zone and a UNESCO World Heritage Site. The majority of visitors to Fez spend their time here. As a result, you are walking through 1,300 years of Moroccan legacy as you go through Fez el-Bali, which has only lately been impacted by globalization and the rush of visitors.
Despite the increase in tourists, Fez's allure remains. The city has seen a lot of change throughout the years. This labyrinthine city is filled with ancient Mosques and Medersas (also known as madrassas, Islamic schools). Non-Muslims are not permitted to enter any of the mosques. Still, two Medersas — Medersa Bou Inania and Medersa el-Attarine — provide a glimpse of Islamic architecture's beauty.
Take note of the delicate balance of stucco and tile work utilized to adorn these architectural marvels!
Traveling to Fez 
Besides the labyrinthine Fes El Bali, there are two more areas to discover in Fes: Fez El-jdid ( The new part of the Medina, which is a few hundred years old ) and the Ville Nouvelle (a New city in French ), which the French built in the 20th century.
Even though most of the things to do and see in Fes are located in the old part of the Medina, many visitors hop into Fes El Jedid for a visit to the Mellah ( Jewish quarter ), Jnane Sebil Gardens, and Batha Museum. Unfortunately, the Ville Nouvelle remains ignored mainly by tourists unless they travel by train, head to the airport, or want to get a sneak peek of the modern lifestyle of Moroccans.
Fez is a medieval city and a UNESCO World Heritage Site, where life has remained chiefly unaltered for centuries. Fez has become a melting pot of languages as a result of globalization. Most business owners, servers, and employees are fluent in Arabic, French, English, and other languages. Moroccans are increasingly eager to practice their English. They would gladly inform you that Morocco was the first country to recognize the United States of America as a sovereign nation. The bustle of narrow, twisting Medina tunnels and the tranquil, reflecting inner spaces that give Fez its beauty is always in action.
Today, the past and present collide in surprising ways for you to explore. Fez is a must-see Medina for Morocco because of all this.
Fez history at a glance
Moulay Idriss II, the son of the founder of modern Morocco, built Fez around 789 A.D. At the same time, the origin of the city's name is still being determined. Some historians believe it is derived from the traditional Berber word for the Middle Atlas mountains, Fazaz. In contrast, others attribute it to a legend about a golden axe that split the river Fez into two pieces (in Arabic, a fes is an axe). Fez genuinely started to expand over 800 people from Cordoba, Spain, arrived in 817-18 A.D., followed a few years later by almost 2,000 families from Tunisia. For nearly 300 years, these communities fought one another. It wasn't until the Almoravid Empire arrived in 1070 A.D. that the city saw some calm. The city of Fez gained shape under the Almoravid administration, and the Fez walls, which still define the outline of today's Fez El-Bali, were built. Fez was the world's most incredible metropolis by 1170 A.D., with about 200,000 inhabitants. It was a vital commerce hub, connecting Africa and Europe, the gold route from Timbuktu, and the renowned tanneries known for their exquisite leather shields. In 1250 A.D., the Merenids conquered Morocco and established Fez as their capital. Fez el-Jdid, the "new" city, was established during this time, with broader streets, parks, and several governmental facilities. Fez also became an intellectual and cultural center at this time, and the "Fassi" style, a mix of Almohad and Andalusian traditions, was born. The Bou Inania Medersa and Medersa el-Attarine are perfect examples of this period's refined architecture.
For its history and status as Morocco's learning and spiritual capital, Fez is currently regarded as the "Athens of Africa" and the "Mecca of the West."
What to Do in Fez, Morocco 
Fez Medina is a maze of narrow, winding lanes. Many children will alert you if you are approaching a fork in the road. Understanding that Fez is shaped like a bowl is an excellent approach to quickly finding your way out of this maze. You'll enter the maze traveling downhill, which means you'll have to climb uphill to exit… albeit you could end up somewhere unexpected. To go from one "gate" of the city (such as Bab Boujeloud) to another, it's a good idea to have change for a cab. If you can schedule a day in Fes Medina to "get lost," you will have a day to remember for the rest of your life.
Stroll the Talaa Kebeera 
Fez's most prominent "street" is the Talaa Kebeera. It starts immediately after Bab Boujeloud and runs through much of the Medina. This main thoroughfare includes various stores, souks, and tourist attractions. It's a lovely taste of ancient Fez.
Take a Guided Tour 
While not as exciting as being lost, a guided tour of Fez is a terrific opportunity to learn about the city's history and understand where you are in this perplexing Medina. This is only one of many included activities on a private Morocco trip with our crew. Before venturing out for a full day of exploring in Fez, you'll have a conversation with your local city guide about your interests.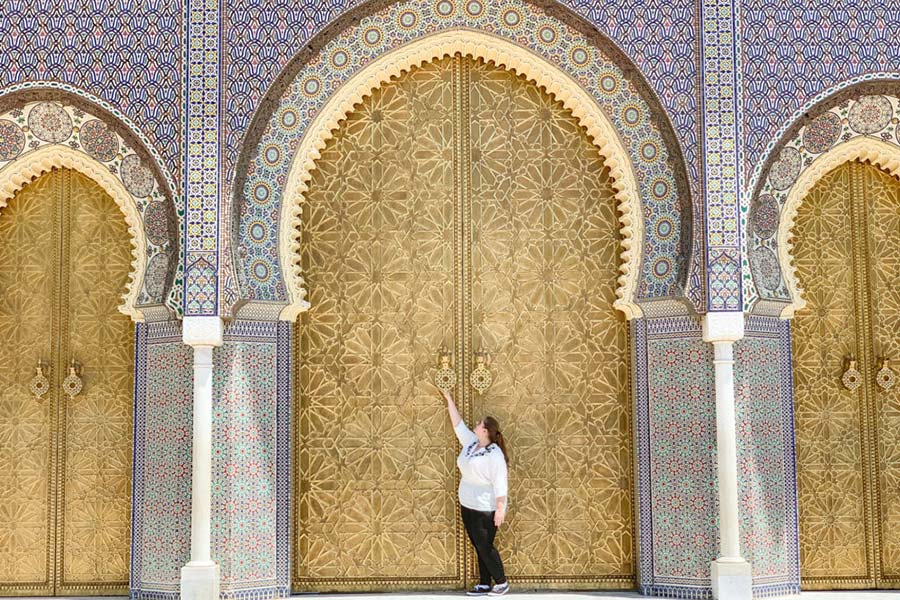 Visit a Hammam (Traditional Moroccan Bath) 
There's nothing like scrubbing oneself clean after a few days in Fez. If you want a local experience, there are many Hammams (or "public baths") in the area. You may inquire about the nearest local Hammam from your Riad staff, who will gladly take you around and inform you of the hours, which vary by region. Of course, you must provide your soap, towel, scrub brush, and other personal items. Most Riads offer a more luxurious experience, including private and couples spas and massages.
Attend the Festival of Sacred Music
The Sacred Music Festival, which takes place in June and features music from all over the globe, is one of Morocco's major music events. The festival will take place from June 7 to 15 this year, with an Andalusian theme. Go to the Fez Sacred Music Festival website for the most up-to-date information.
Take a Cooking Class 
Moroccan food is frequently compared to French and Italian cuisine as one of the greatest in the world, and for a good reason. Nothing draws people around a table together like delicious food. Almost certainly, you've tasted couscous, Tajine, or a bowl of Harrira. Why not spend an afternoon at a culinary school creating your lunch, meeting new people, and taking home a recipe? Café Clock offers a great cooking class that includes a short-guided food tour of the Medina, during which you will learn about Morocco's food souks. (600 DHS per person; please reserve in advance through email at fez@cafeclock.com)
Fez Travel Guide: What to See in Fez el Bali 
Bab Boujeloud 
The "Blue Gate," also known as Bab Boujeloud, is the main entrance to Fez's medieval Medina and a popular group meeting spot. Through this gate, you may reach the Talaa Kbeera (large hill) on the left and the Talaa Sghira (small hill) on the right, passing a succession of cafes that all serve Moroccan-style food. The Talaa Kbeera and Talaa Sghira are roads that run down via the main thoroughfares into the ancient Medina and join with one another at the Henna Souk farther into the Medina. Bab Boujeloud and its environs were all built at the turn of the twentieth century. The French-built gate, for example, is blue on the outside and green on the inside, fastened from the inside. Both have extensive Zellij work on their facades and are worth a picture op. As you approach the old Medina via the massive blue gate of Bab Boujeloud, you will notice the Medersa Bou Inania's green-tiled tower thrusting into the sky. The Medersa is one of the finest specimens of 14th-century Merenid architecture. Visiting the Medersa with a tour guide is advisable, as non-Muslims are occasionally denied entry due to prayer times (Opened all days except Friday, hours vary).
Fez tanneries 
The guides frequently add, "The scent is free… but if you want to purchase, you must pay." People will very certainly inquire whether you need directions to the tannery. Remember that on hot days, you won't need advice; follow your nose. The nearby tanneries have a handful of stores that offer their wares. Many of them have terraces where you can free gaze down on the decks. Though admission and a tour of the tanneries are free, you may feel compelled to purchase some handcrafted Moroccan leather products.
Al-Qarawiyyin University (also known as Al-Karaouine) 
Fatima al-Fihria, a lady who had escaped Tunisia for Morocco, built the Al-Qarawiyyin (al-Karaouine) Mosque and University in Fez, Morocco, in 859 AD. It is the world's oldest university, according to UNESCO. The libraries feature several fundamental papers from around 780 A.D., including Malik's Al-Muwatta, written on gazelle parchment, which will be exposed to the public very soon! The other Medersa available to non-Muslims is Medersa al-Attarine, located close to the Qarawiyyin mosque in the heart of the Medina. Ornate tile, plaster, and wood works adorn this magnificent, nearly 1,000-year-old Medersa, much like the Medersa Bou Inania. If you want to see the student apartments, ask if you may go upstairs. (Open Monday through Friday, hours vary)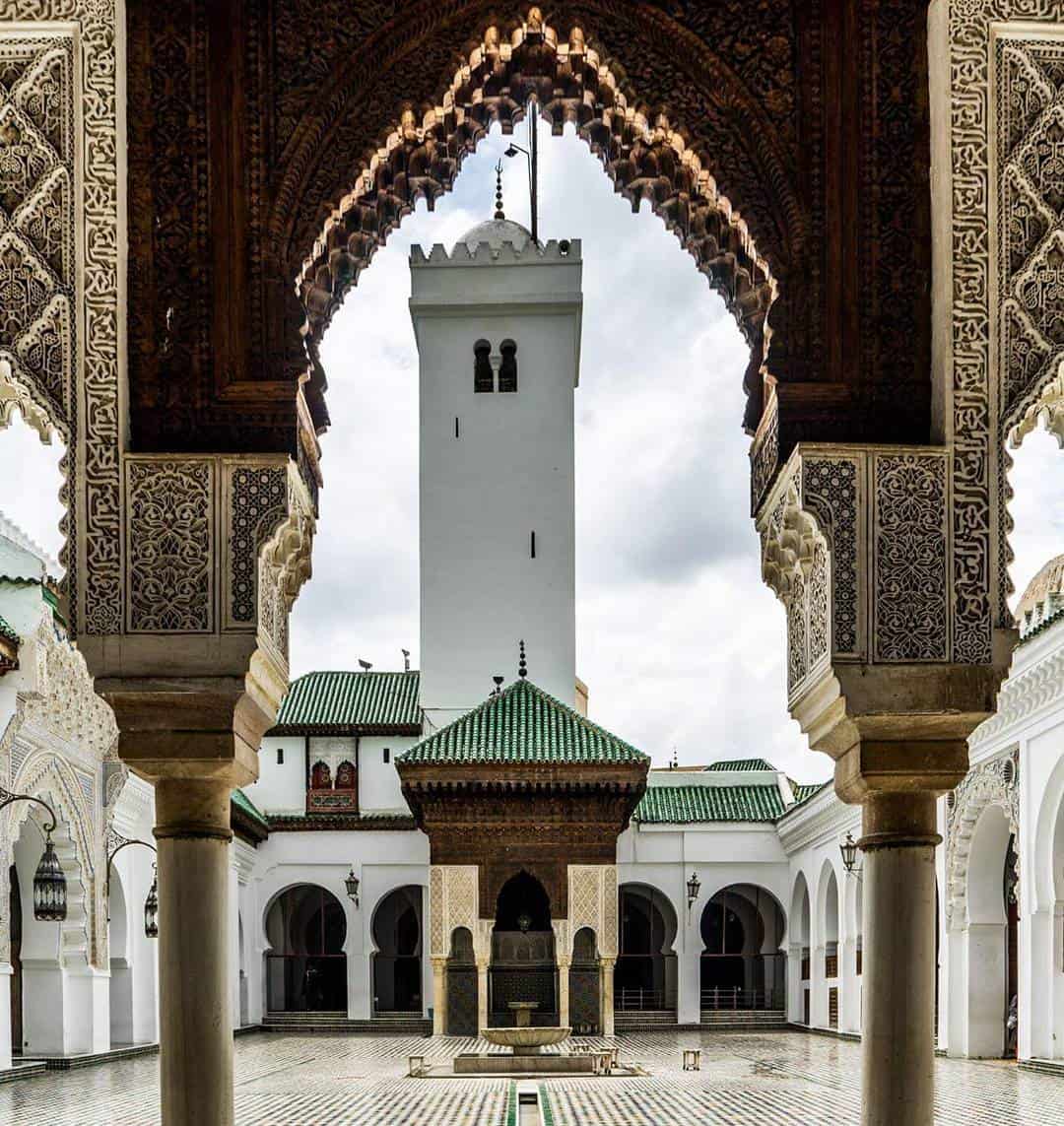 Fondouk el-Nejjarine 
Facing the historic Place, El-Nejjarine or "Carpenter's Square," the Fondouk El-Nejjarine (also known as the "Museum of the wood" and the Musée de Bois). The Fondouk was built in the 18th century as a "caravanserai" or "roadside inn" for travelers and tradesmen. This Fondouk was restored and transformed into the museum it is now by a previous minister who spent 25 million dirhams (about USD 3 million). Visitors will want to spend an hour or more in this beautifully restored structure learning about Moroccan woodwork, the tools used, and a collection of wood and cabinet work from various places in Morocco, both ancient, dating from the 14th century, and more everyday items. Make time to explore the rooftop terrace, which offers one of the most incredible views of Fez. (Open every day from 10 a.m. to 5 p.m.)
Henna Souk 
Throughout the Medina, various souks (typically a big square of stores) lead you from one to another, leaving no trace that you've walked from one to the next. The Henna Souk, located towards the foot of the Medina, is a delightfully shaded souk nestled behind a couple of enormous plane trees. Leo Africanus worked in the now-defunct psychiatric institution, which was constructed in the 1300s. Pottery and traditional cosmetic items may be obtained here, so chat to Ali in the final decorative stand outside the old hospital if you're looking for Argan oil or other Moroccan goods.
What to See in Fez el-Jdid
 Batha Museum 
The Dar Batha Museum, housed in a 19th-century Moorish palace, contains several antiques, carved wood, plaster, jewelry, rugs, and ceramics. 9 a.m. to 5 p.m., Tuesdays and holidays closed.
The Mellah 
In 1438, Fez Mellah, or Jewish Quarter, was founded. Although it is the oldest of Morocco's Mellahs, it is now home to relatively few Jews, with the majority having relocated to Casablanca, France, or Israel. With its elegant balconies and wrought-iron windows, the Mellah district is worth a walk. In addition, the Danan Synagogue's terrace on rue Der el-Ferah Teati offers a magnificent view, and the Jewish cemetery is worth a visit. However, be aware of fake tours and individuals asking for money at the cemetery; it's better to go with a qualified guide if you want to avoid being hassled.
Merenid Tombs 
The Merenid Tombs, located outside the Medina, originate from the 14th century and are home to several sultans and other members of the Merenid dynasty. Therefore, there's no need for a guide. It's a short cab trip from the Medina to the tombs and then an easy twelve-minute walk back into the Medina. If it's not too hot outside, this is a beautiful area to bring a picnic. However, you will want to avoid being caught here late at night.