Trekking through the majestic Atlas Mountains of Morocco, an area populated by a majority Amazigh population feels like stepping back in time. The air is clean and crisp; children frolic freely around lush valleys as farmers cultivate their plots with both male and female hands. Donkeys are commonly seen transporting old or young locals up winding pathways that lead to hidden mountain villages not visible from main roads.
It' no surprise these mountains have become one of Morocco's preferred destinations for hiking enthusiasts! When spring arrives in February, abundant apple trees blossom into vivid hues while cherry blossoms fill the fragrant atmosphere with a sweet aroma alongside apricot groves, plus almond and walnut plantations filling out this gorgeous landscape even further. Summertime sees many Moroccans take refuge from Marrakech's heat within Toubkal National Park, so it doesn't matter what season you visit. There'll always be something special awaiting your arrival here! Now all you need is our guide on how best to experience trekking within these magnificent Atlas peaks.
Where to Hike in Morocco?
The Atlas Mountain range boasts three distinct regions: the Middle Atlas in the north, High Atlas in central Morocco, and the Anti-Atlas to the south. Each area offers a unique trekking experience that is as diverse as it is breathtaking. The carpets produced by numerous tribes are also varied, just like these landscapes!
For those seeking an immersive outdoor experience, trekking in Morocco's Toubkal National Park is a perfect choice. A mere hour from Marrakech lies a mountaineer's paradise of winding trails and stunning vistas – topped off by Mount Toubkal, towering at over 4167m as the country's highest peak! Yet this is just one option amongst many; across Morocco's majestic Atlas Mountains, explorers have various routes to take on their journey.
To conquer the uncharted paths and unfamiliar terrain of Morocco, enlisting a certified mountain guide for half-day, full-day, or multi-day treks is highly recommended. These experts possess exceptional skills in navigating diverse landscapes, overcoming language barriers, and adapting to unexpected weather changes. Furthermore, they have extensive local knowledge, which enables them to provide exclusive access to unique experiences such as visiting villages, discovering talented artisans, or exploring alternative routes that are not commonly known. So don't let uncertainty hold you back from experiencing the adventure of a lifetime – hire one today!
Venturing across Morocco on a full or multi-day escapade, you may find yourself in the green valley sipping refreshing mint tea served piping hot by your host. Refreshments will be provided depending on the season, with regional fruits, delicious Tajine to devour mountainside and freshly baked bread. A donkey will accompany trekkers for their journey carrying necessary supplies and luggage!
Morocco trekking highlights
Imlil is a bustling destination within Toubkal National Park, the ideal starting point for ascending Mount Toubkal. Local vendors have set up stalls full of fossils, Carpets, Jewellery, and other souvenirs waiting to be discovered by visitors. Arranging Homes tays with local families can quickly be organized by engaging a knowledgeable guide or travel agency. Alongside small snack bars also stand informal restaurants ready to serve Tagines cooked over coal-fired grills that tantalize passersby's taste buds!
Wild, far-flung, and breathtakingly picturesque, the Jebel Sirwa provides a unique chance to return in time while immersing yourself in this remote area. Snuggled between the High Atlas Mountains and the Anti-Atlas range, the extinct volcanic region of Jebel Sirwa displays scenery that could be easier to find elsewhere in Morocco. Here you can explore saffron fields, flowery meadows, and ancient villages with stunning landscapes – all inhabited by the Ait Ouaouzguit Berber tribe, who add even more charm to an already remarkable place!
The stunning Atlas Mountains of Morocco are home to the picturesque Ait Bougmez and Mount Mgoun Valley. Kept secret from most, you can explore unspoiled nature here and feel like a ruler in an isolated mountain kingdom. An ancient connection between this region and the Amazigh (free people) or Berbers is ideal for trekking holidays! Standing tall at 4071m, Mt Mgoun makes off-the-beaten-track adventures possible with its winding caravan routes leading through the culture hub of local Berbers; while providing rare glimpses into new parts of Morocco rarely seen by travelers. Amidst alluring mountains lie aromatic groves, verdant pastures sprinkled with alpine towns & tranquil hamlets, creating a captivating atmosphere that beckons exploration on both land & heart alike! Spend your days hiking along serene pathways before camping out under starry skies upon peaceful high meadows favored by nomadic shepherds each evening.
Jebel Saghro is an undiscovered paradise, boasting magnificent volcanic landscapes, awe-inspiring gorges, and rock spires reaching the heavens. Inhabited by friendly Ait Atta Berbers in charming villages, this remote region provides a unique opportunity to explore a timeless culture while trekking through rarely visited trails. Immerse yourself in Morocco's High Atlas Mountains as you uncover ancient nomadic traditions on your journey of discovery – all within easy access from nearby cities!
Trekking in Morocco's Mount Toubkal
Are you ready for a challenge? Conquer North Africa's highest peak, Mount Toubkal! All it takes is moderate fitness and two days of decent weather. So lace up your hiking boots and prepare to push yourself to new heights. Let's go!
Mout Toubkal trekking routes
Beginning in the village of Imlil, around an hour and a half away from Marrakech, this trek meanders up to Aroumd town. Onward through picturesque villages and rugged canyons, you will reach Refuge de Toubkal, four or six hours, depending on your pace, with continuous climbing. Along the path, cross over a river that sections off Imlil Valley. Observe Sidi Chamharouch's white rock shrine, where superstitious Moroccans make offerings to their Jinn Sultan (King of devils) and appreciate Mount Toubkal gradually coming into view.
Most hikers break at the Refuge de Toubkal, where cozy rooms and dormitories give shelter overnight. Hikers on prearranged trips can anticipate their sleeping quarters to be appointed in advance by guides, who will most likely arrange for camping mats to be rented. If you intend to hike independently, call ahead of time and reserve your spot. Otherwise, one may camp outdoors within the refuge's boundary during summertime. Remember not to miss out after dark—gazing into the star-filled night sky is an extraordinary experience! A must-do on your Mt. Toubkal ascent trek!
Early risers will take on a daring mission to conquer the awe-inspiring Toubkal before dawn and witness an incredible sunrise over Morocco. The 1km trek from the refuge is not for the faint of heart, as you ascend 750m along winding trails that lead up to the breathtaking ridge known as 'Tizi n Toubkal Pass (South Col).' If your quest occurs during wintertime, it's wise to bring ice axes and guides. Otherwise, treacherous paths can be difficult without proper equipment! After reaching this pinnacle point in your journey, you'll descend again toward Imlil after 12 hours of intense hiking. Conqueror or just adventurer; either way, its sure-fire rewards await those who accept this challenge!
Mount Toubkal difficulty
Conquer the trek with confidence! Novice hikers should enlist a local mountain guide to coordinate all logistics, including cooks, mules for supplies and baggage transport, and gite accommodations. Summertime is ideal for tackling Toubkal as mountaineering can be more arduous in winter when snow-covered peaks may necessitate crampons or heavy cold weather gear. The chill of December through February will make temperatures dip even lower at night – bring strong walking boots plus your essential climbing equipment if you plan on attempting it then. Prepare well so that inclement conditions won't spoil summit hopes!
Know Before You Go
Don't let altitude sickness hold you back from conquering Mount Toubkal! Take the necessary precautions by acclimatizing with an overnight stay in Imlil or the refuge. If intense hiking isn't your thing, opt for a more leisurely half or full-day trek starting in Imlil and ascending to Aroumd before crossing through charming small villages along dry riverbeds. Take advantage of experiencing all this beautiful region has to offer!
Discover many guesthouse options in the region, ranging from cozy homestays to luxurious kasbahs and the opulent Kasbah Tamadot hotel nearby. If you're looking for exciting day excursion options, travel agents based in Marrakech have you covered! For those seeking adventure, why not share a grand taxi with fellow travelers escaping to this popular village? Upon arrival at your destination, head to the tourist office, where you can find an experienced local guide ready to help make your trip unforgettable! So what are you waiting for? Embark on an incredible journey today!
Trekking in Ait Bouguemez and M'goun Massif
Nestled in Morocco's Central High Atlas Mountains lies Ait Bougmez, a stunning valley affectionately referred to as "Happy Valley" by its French visitors. It's home to Jbel Mgoun – the second tallest peak and part of the majestic Mgoun Massif – which stands at 4,068 meters, just 100 shy of Mount Toubkal. Despite its impressive height, it remains overshadowed when compared with other trails on offer nearby, but that only serves to make this more appealing for those seeking an off-the-beaten-track adventure!
Off-the-beaten-track destination
Ait Bougmez is the perfect spot for those seeking a more secluded trekking experience than Toubkal, just two hours south of Marrakesh. Though it's a five to six-hour drive away from Beni Mellal, making your way up towards Azilal and Tabant will be worth every minute spent! This picturesque plateau town – sometimes labeled as Tanant on maps – offers an exciting entry point into Mgoun National Park that can rival Imlil's gateway to Toubkal National Park in beauty. However, to avoid getting lost amidst winding backroads at nightfall, we highly recommend booking with a professional tour operator so you'll never have to worry about straying off course again!
Venturing to Ait Bougmez needs more planning than a simple one-day hike in Toubkal. This remote area is unsuitable for short walks and even less so if you want to reach the summit of Mgoun. To ensure your experience here is truly memorable, at least five or six days must be set aside – plus an extra day each way just getting there and back from Marrakesh! Staying in local guesthouses can help with this kind of trekking journey; however ideal that may sound, it still won't give you enough time alone on foot without proper preparation beforehand.
Best time to hike M'goun Valley and Ait Bouguemmez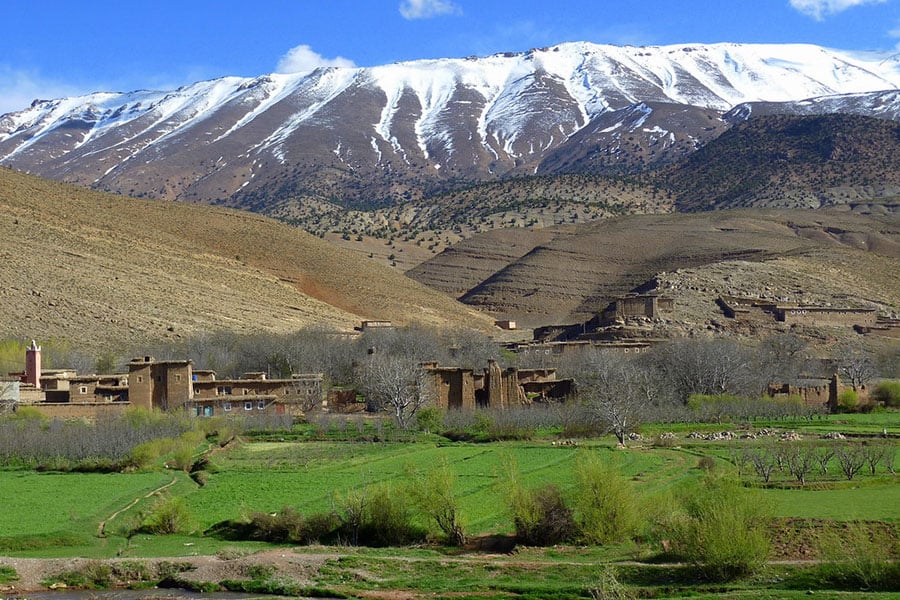 Due to its position in the Central High Atlas (nearby Western High Atlas National Park), this region sees dynamic weather. As it is located further south and close to coastal areas as well as Sahara regions, temperatures tend towards being more dependable – though still quite warm! If you're heading for Ait Bougmez or the Central Atlas area, which are slightly more removed from civilization, then colder winds can be expected; so May until October might be a better time for your trekking expedition here. Our group trips will depart during June and July, plus August through early September, when conditions should offer a fantastic experience of North Africa's off-the-beaten-track destination!
How to plan your M'goun Massif hike?
The Mgoun Massif boasts an environment that is less rocky than Toubkal National Park; the copious rain and snow cause it to be more luxuriant in comparison. Although every trekking route across Morocco involves navigating tricky, stony trails, this region might provide a gentler journey (as some reports suggest!). Nonetheless, considering its difficulty – especially when attempting the steep descent from the summit, good shoes plus poles for balance will help you surmount whatever obstacles come your way, but courage and optimism are also critical!
Join us on our treks, where we offer a unique combination of camping and local guesthouse lodging for overnights. Our preference is to camp as it allows us more control, with skilled staff with top-notch equipment making the experience smooth (some even argue pretty comfortable). While lodges are few and far between, you'll still enjoy village visits and walk throughs during most days' walks. For further information about supplies we bring along with recommended packing lists, please download our brochure today! Join in now for an unforgettable adventure!
Mgoun is a far-flung locale that should only be explored by the hardy, experienced, and medically uncomplicated. Our guides are trained in emergency medical attention. At the same time, satellite phones accompany our treks to guarantee safety measures are strictly observed. Trekkers must be candid with their journey provider, family members, other adventurers, and themselves regarding capability levels before embarking on an Ait Bougmez expedition. Though arduous at times, these experiences can prove rewarding as you traverse rustic trails that test fortitude and wit alike; security is always paramount!
How to get to Ait Bouguemez ?
Are you looking for a top-notch trekking experience in Morocco? Look no further than First Morocco Tours! While treks in Mgoun and the Central High Atlas may require long transport from Fez or Marrakesh, our team offers unparalleled safety, quality, and deluxe experiences. Our various treks are not budget-oriented; we provide superb guides, food, and equipment to ensure your satisfaction. As a company on the ground for over 15 years, you can trust us to care about your experience honestly.
Hiking in Jbel Saghro
Not far from the High Atlas Mountains is a majestic range known as Jebel Sahro. Trekkers may not visit this area, but it's an absolute must-see! The landscape boasts mesas with flat crowns and plunging ravines formed through volcanic action over time. You'll find lush orchards of almonds and date palms stretching out before you, too – a sight to behold!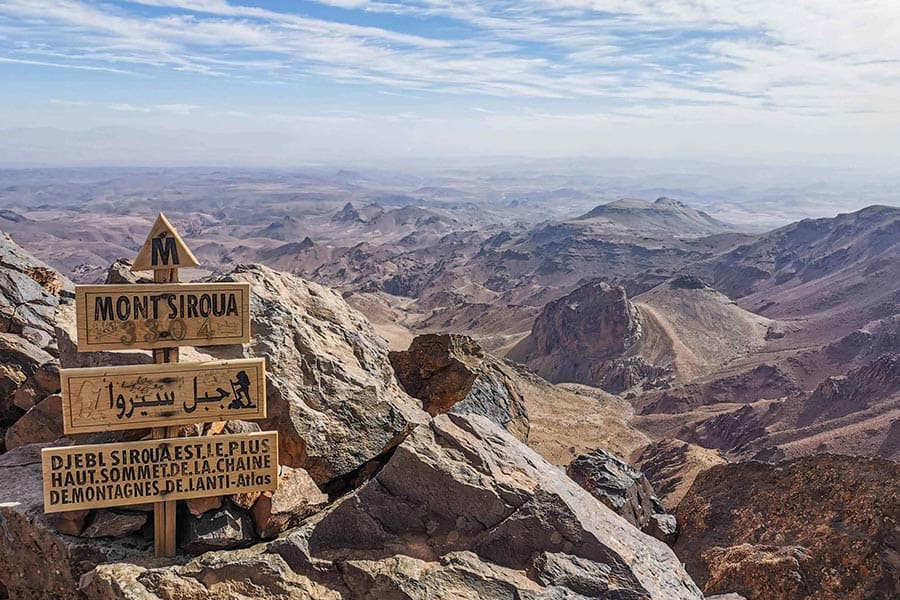 How to plan your Saghro Massif hike?
The possibilities for planning a trek in this region are endless due to its diverse terrain. Breathtaking scenery awaits you at every turn, no matter which route you take. You have three options for starting your Sahro trek: Boumaine du Dades and Kelaa M'Gouna, located in the north, or N'Kob, situated in the south. To make things easier, various Moroccan tour operators offer their services from these towns. So why wait? Embark on an unforgettable adventure today!
Plan your trek in Jbel Saghro by gathering all necessary supplies in Marrakesh or Ouarzazate. While you may be able to find some items along the way, it's best to come prepared with most of what you'll need. Consider bringing a tent with you or utilizing gites that offer shelter if there is snow. Don't risk being unprepared, and make the most out of your adventure!
Embark on a thrilling six-day adventure by hiking the Saghro Loop. You'll stay on one side of the mountain and witness breathtaking views of the High Atlas Mountains, Jebel Sahro, and Tete de Chameau cliffs. The trail is dotted with charming villages for pit stops along your journey. Don't miss this incredible opportunity to explore Morocco's stunning landscapes!
By the fourth day, you can espy the Needles of Saghro. Then, finally, this remarkable precipice declines towards the Amguis River. On your ultimate journey down this track, you will be welcomed by Dades Valley!
Best time to hike Jbel Saghro
Despite potentially colder conditions and occasional snow, winter is the perfect season for this trekking region. In the summertime, it gets uncomfortably hot; what's more, snakes and scorpions are abundant! Above 4,000 feet, there may be frequent flurries of snow, but usually, intrepid hikers can still traverse these trails with ease. Ensure you have adequate hydration – dehydration is a common risk at whichever time of year you explore here!
Hiking Jbel Sirwa and the Anti-Atlas Mountain
People from across the planet come to venture through Morocco's Atlas Mountains. The southernmost of these is known as the Anti-Atlas, stretching along a path beginning at the Atlantic Ocean in the southwest and concluding near Ouarzazate northwardly. To its south lies an astonishing contrast – that being none other than vast stretches of desert sands belonging to the Sahara!
Though the Atlas Mountains are often regarded as a favored trekking spot in Morocco, those seeking an equally-breathtaking journey should consider exploring its southern counterpart: The Anti-Atlas. Here you'll find incredible views of the Sahara Desert and fewer travelers along your chosen route!
How to get to Jbel Sirwa
Tafraoute is a gateway to exciting treks in the area. Jebel Siroua, an old volcanic cone, fascinates hikers who seek its slopes for adventure and exploration. The regal purple hue of nearby peak Jebel Lekst attracts daredevil mountaineers looking for their next challenge; additional summits eastward from Tafraoute provide further thrill-seeking opportunities! For those who fancy something more offbeat, there's always remote yet increasingly popular Jebel Aklim – conquer it. You'll be treated to gorgeous vistas across the High Atlas, plus that iconic view of the venerable old volcano Siroua … now wouldn't that take your breath away?
How to plan your Jebel Siroua trek
Venturing southeast of Tafraoute presents an arduous but ultimately fulfilling journey. The mountainous terrain is rugged, yet the soil below harbors numerous oases and cultivated valleys. If you'd instead take it easy, trek to Ait Mansour and Timguilcht can be as rewarding!
If you're an avid trekker, the Anti-Atlas Mountains may not be your first choice due to their underdeveloped facilities and harsh climate. However, if you decide to visit this region near the desert areas of Morocco, it's best to plan your trip outside of summer when temperatures soar. Much like a tour of the Sahara Desert in Morocco, where extreme heat is typical during summer, one should avoid visiting these mountains at that time too! Additionally, snowfall on higher peaks can make winter treks challenging, so timing is crucial for a successful excursion.
It is highly recommended that hikers in this region have enough food and water before embarking on their journey, as limited supply stores are available. While finding shelter in village homes during the hike may be possible, relying solely on this option when packing your supplies is not wise. Therefore, stock up adequately beforehand for a safe and enjoyable trekking experience.
Don't let any doubts hold you back from exploring the Anti-Atlas. A wise move would be to enlist a well-informed guide about the region. With 26 villages nearby, plenty of guides are available for hire, and registered ones will have ID cards on hand for verification purposes. Trust us. It's worth having an expert by your side while trekking through this breathtaking terrain!