Morocco's Ait-Ben-Haddou is a lovely walled town in the country's southeast that has been a UNESCO World Heritage Site since 1987. The little village dated back roughly 1,000 years and was once a significant stop on the caravan route. Today, Ait-Ben-Haddou is one of Morocco's most popular tourist destinations and is the most appealing stop on Morocco desert tours.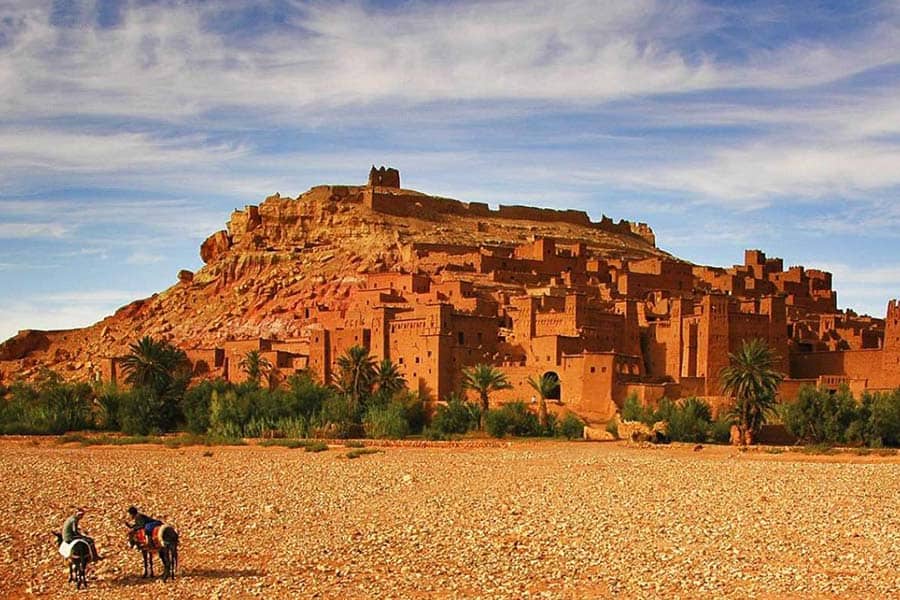 Ait-Ben-Haddou was previously used as a movie location for several well-known films due to its distinctive architecture and enchanting atmosphere. For example, Game of Thrones, Gladiator, and Lawrence of Arabia were all filmed here! Therefore, a visit to this charming town is recommended, and every Moroccan visitor should see the country's largest Kasbah. Our trip guide provides all of the necessary information about Ait-Ben-Haddou in Morocco. In addition, we show you incredible photos and provide information on how to get there, where to stay, and the most magnificent vistas in the mud city.
KNOW BEFORE YOU GO
Many people go on a guided day trip or multi-day excursion to Ait-Ben-Haddou. On Enchanting Morocco, you may book unique tours that typically include additional southern Moroccan sights. With a rental car, you can explore Ait-Ben-Haddou on your own. A road journey through Morocco would only be complete with a visit to this famed fortified town! A half-day in Ait-Ben-Haddou is sufficient. However, if you want to see this fortified Berber village at sunset and take in the scenery, you should stay for one night.
AIT-BEN-HADDOU: GENERAL INFORMATION
Ait-Ben-Haddou, also known as Ait Benhaddou, is a well-known walled mud hamlet on the Atlas Mountains' edge, around 30 kilometers from Ouarzazate. The town rises majestically on a hill overlooking the arid countryside. The Asif Mellah River creates a picturesque background near the ancient town's gates. The town's historic core is exceptionally spectacular, having been included on the UNESCO World Heritage List since 1987. The 17th-century stronghold sits atop the hill above the walled old town, offering an excellent view of the surrounding area! The way the mud-brick houses are built is unique. As a result, the original mud buildings were built close together, often nesting inside one another. As a result, some old townhouses are still in good repair and may be toured from the inside.
Ait-Ben-Haddou has also been the setting for several films. To name a few are: The Game of Thrones, Gladiator, Asterix and Obelix, Alexander, Prince of Persia, Aladdin, the Mummy, Babel, The Hills Have Eyes II and Laurence of Arabia.
HOW TO TRAVEL FROM MARRAKECH TO AIT-BEN-HADDOU
Ait-Ben-Haddou is located around 180 kilometers southeast of Marrakech and may be visited via car hire or guided trip. The route from Marrakech to Ait-Ben-Haddou is indeed breathtakingly gorgeous. Your journey will take you across the High Atlas Mountains and past the Tizi n Tichka Pass. Grandiose scenery, a one-of-a-kind mountain environment, and the gorgeous south of Morocco await you. If you enjoy shooting photographs, you should set aside enough time to travel up this scenic mountain route.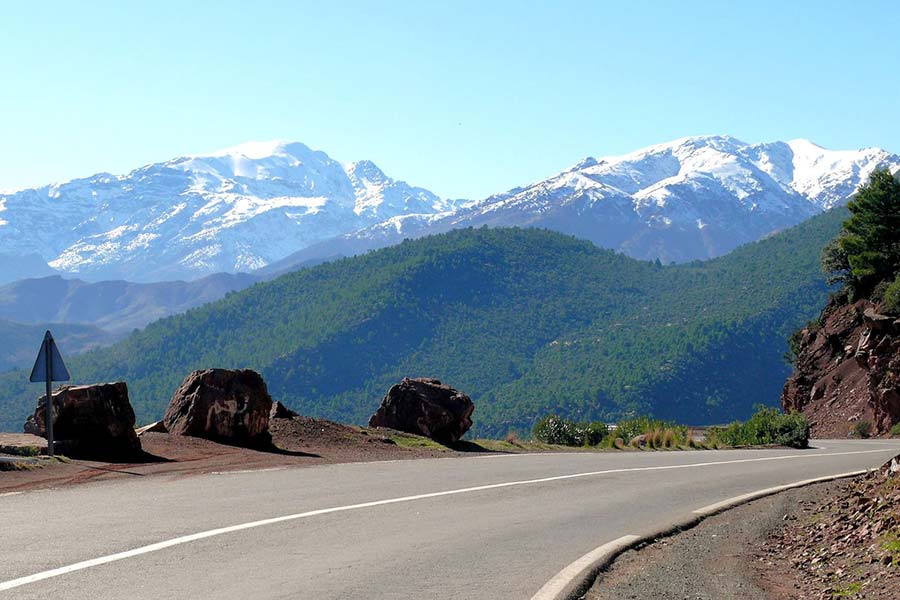 We will travel by car from Marrakech to Ouarzazate and then to Ait-Ben-Haddou, passing through the Atlas Mountains. On this beautiful road, the aim is the journey itself. The landscapes begin to change dramatically after Marrakech, and you marvel at the rich greens that create a stunning backdrop. The route gradually ascends as you pass through the first Berber villages of the Atlas Mountains.
TIP: 
Don't forget to stop at Tizi Imguer's café for a rest! The view of the red granite mountains and the vast valley is spectacular. You could see some meerkats here if you're lucky.
The route will take you to the Atlas Mountains, culminating in the Tizi n Tichka Pass. Along the road, there are many fantastic photo chances and views. Another reason why driving across Morocco is worthwhile. The High Atlas, with its stunning snowy peaks, can be seen from the summit. This zigzag route climbs to a height of 2260 meters. If you're interested in minerals, you've come to the correct location. There are always stones for sale along the roads. As the mountain falls after Tizi n Tichka Pass, the scenery changes radically. Morocco Sahara Desert heralds include dry hills, massive rock formations, and historic kasbahs. The terrain near Ait-Ben-Haddou is already exceedingly dry, and the first camels appear seemingly out of nowhere.
AIT BEN HADDOU: BEST THINGS TO DO
Exploring the picturesque mud-brick village of Ait-Ben-Haddou is best done on foot. You'll get a sense of this magnificent town when you cross the river. While walking around the massive Kasbah, you will get to visit some of the historic dwellings. The entry charge to these little museums is generally only 1 Euro, and they provide a unique glimpse into people's past lives. There are several souvenir stores, restaurants, and charming cafés on the route to the summit of the village of Ait-Ben-Haddou. Some of these are extremely popular Instagram locations.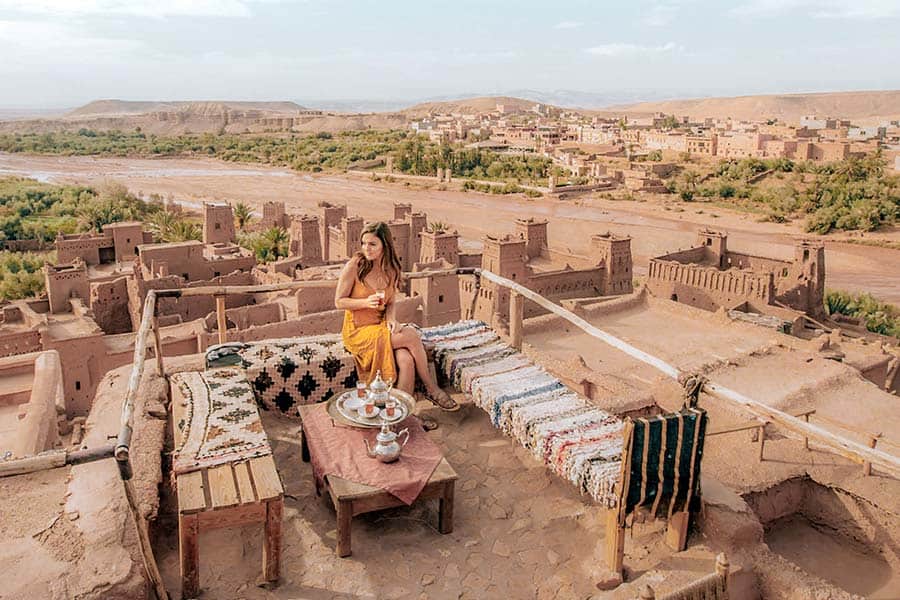 This walled town used to be enormous, and it's hard to realize that about 2,500 people lived here until 50 years ago. You'll be rewarded with a spectacular perspective of the arid desert environment once you reach the summit. This is the most enjoyable portion of the journey. The numerous lovely clay structures, rocky lunar landscapes, and white peaks of the Atlas Mountains may be seen across the valley along the Kasbah. One thousand years ago, one might envisage Berber life.
THE BEST VIEWPOINT OF AIT BEN HADOU
This village's overall view is breathtakingly gorgeous, and the city's hues change depending on the time of day. Morning light at Ait-Ben-Haddou provides fantastic photo chances, and not only expert photographers may look forward to shooting unusual photographs here. The most excellent views of Ait-Ben-Haddou may be had from one of the village's many rooftop hotels and lodgings.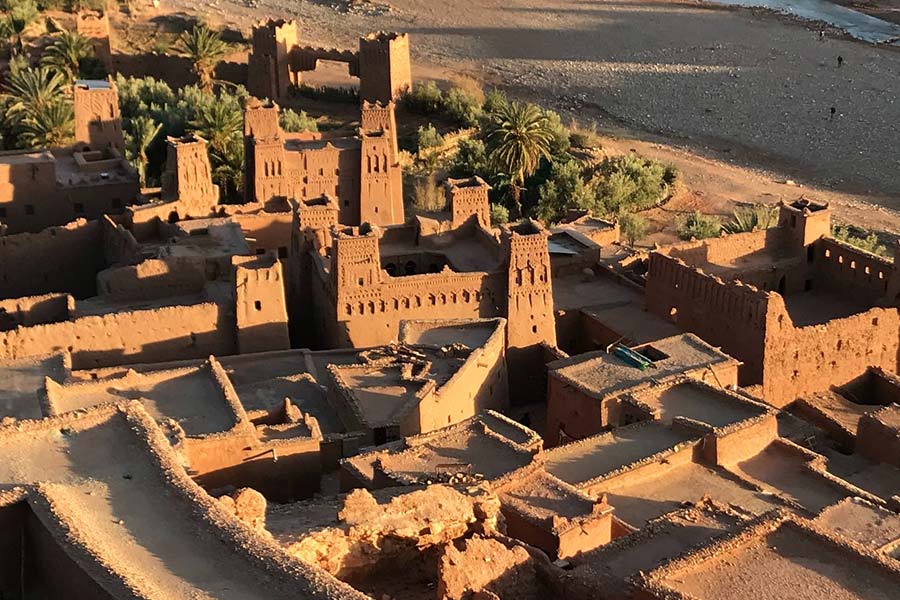 FAMOUS FILMS SHOT IN AIT BEN HADDOU
It's no surprise that this magnificent location has become so well known because Ait-Ben-Haddou was used as a film set for many Hollywood blockbusters. Here are a handful of the films that were shot there: Gladiator, Game of Thrones, Asterix and Obelix, Aladdin, Prince of Persia, The Mummy, The Hills Have Eyes II, Babel, Alexander, Laurence of Arabia, and many others are just a few examples.
ADMISSION AND HOURS OF OPERATION
Ait-Ben-Haddou is free to enter. Only select private museums charge a minimal entry price. There are no set operating hours, so you may come and go whenever you like. When most visitors have left, exploration expeditions in the late afternoon or early morning are very enjoyable.
AIT BEN HADDOU TOURS FROM MARRAKECH
You may take a day tour from Marrakech to Ait-Ben-Haddou to see the mud city. Day trips and multi-day desert tours from Marrakech to Merzouga, Zagora, and Erg Chigaga are available. Enchanting Morocco offers a diverse selection of Morocco desert tours.